2018 Historic Preservation Congressional Candidate Survey Results
Preservation Action is pleased to announce that we have completed our 2018 Historic Preservation Congressional Candidate Survey. Over the last few months, with the help of our state and local partners, we reached out to U.S House and Senate candidates in all 50 states. With the 2018 midterm elections just around the corner, Preservation Action surveyed congressional candidates in an effort to keep Americans informed on where their candidates for office stand on the national historic preservation program, and to educate candidates on key historic preservation programs.
We received responses from nearly 150 congressional candidates, representing 37 states and the District of Columbia. The results show historic preservation is a bipartisan issue and recognized as an important federal policy initiative by candidates from across the country.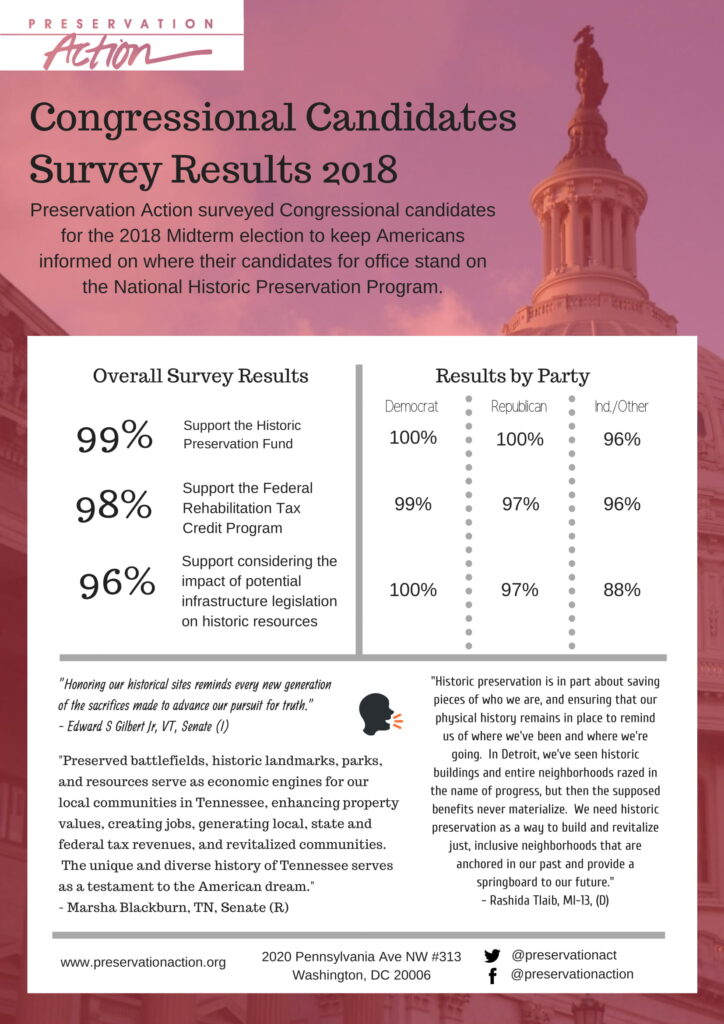 In response to the survey, 99% of candidates expressed support for the Historic Preservation Fund, 98% of candidates expressed support for the Federal Rehabilitation Tax Credit, and 96% of candidates support considering the impact potential infrastructure legislation on historic resources. Candidates also gave impassioned and articulate responses to why historic preservation was important to them and their district/state. We've highlighted a few of those responses below.
"No country can be great without respecting and honoring its past.
– Clint Koble, NV-2 (D)
"The places and structures of our past are woven into the fabric of our culture and society. History is what got us here, and as a history buff I am proud to support preservation efforts.
– Congressman Don Bacon, NE-2 (R)
How did the candidates in your state respond? Check out the full results below!
2018 Congressional Candidate Survey Results (.xls)
2018 Congressional Candidate Survey Summary (.pdf)
In addition to reviewing the survey results, we encourage you to research where your members of Congress stand on historic preservation.
VOTE PRESERVATION on November 6th!