Preservation Action, Legislative Update
Volume 21, Number 36, November 02, 2018 →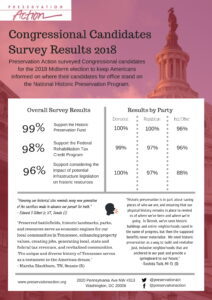 1.  Midterms are Next Week: Where Do Your Congressional Candidates Stand on Historic Preservation?
2.  Kentucky's Camp Nelson Designated a National Monument
3. Applications Being Accepted for the Secretary's Awards for Historic Preservation
4. Vote Your Main Street Campaign Awards $1.6 Million in Preservation Grants 11 Sites Across the Country
 5.  Join Preservation Action Foundation's Legendary Auction and Annual Member Meeting in San Francisco!
6. Stories From the States