<!–/ .post-meta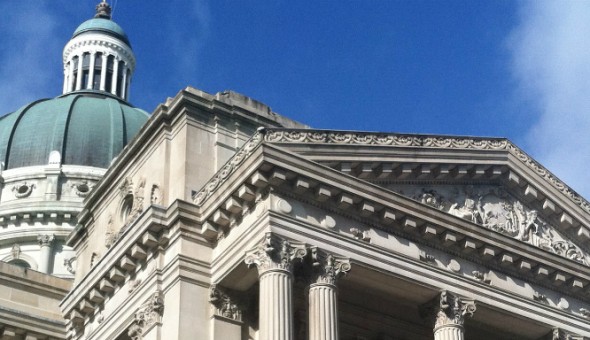 The National Preservation Conference is an annual reminder of how proud Preservation Action is to have great members, partners and supporters that support our year-round advocacy on behalf of grassroots preservationists nationwide.
Lead in photo of the Indiana State Capital by Dana Saylor, historian at Old Time Roots, and Preservation Action Foundation volunteer.
For a week in Indianapolis, our staff participated in every way possible; sessions, panels, lunches, Preservation Action's member meeting, and dance parties – and of course, the Preservation Action Foundation Auction. The auction and closing party were a great way to cap the conference this year thanks to a great host in Indiana Landmarks, and each and every donor and bidder.
Preservation Action's new president, Darlene R. Taylor, jumped right into her role, discussing with members the need for increased communication between PA and our members. Additionally, Darlene indicated she hopes to increase the organization's communication with members of Congress, along with an increase in communication between PA members and state and federal elected officials.
The highlight of the Conference for her was meeting face-to-face with our members and partners. Each conversation deepened her understanding of the state and local issues facing preservationists as she positions PA to better assist and serve our members. Recently, we've  worked with legislators on Hardest Hit Funding in Ohio and Michigan and the Biggert-Waters' flood insurance reform bill. We also joined grassroots efforts in Texas that resulted in creation of a state historic tax credit. All of this was on the request of our members.
"The success of PA's legislative advocacy relies heavily on you, our members, sharing information and raising your voice to advocate on the issues most important to you," said Taylor. Until the importance of historic preservation is known to each member of Congress, our work is not done. I hope that you will join us in Washington, DC for Advocacy Week. We also want to meet with you and your representatives in your home cities and states, deepening our connection with your on-the-ground advocacy and strengthening our national network."
Our Legislative Coordinator, John LaRue, who was instrumental in our lobbying and education work regarding the UNESCO dues issue, attended his second National Preservation Conference. He shared his research and analysis at the World Heritage booth, alongside US/ICOMOS, San Antonio Conservation Society, and volunteers from Ohio and Louisiana.
Today, November 8, 2013, the United States loses it vote in UNESCO, affecting our standing in the international group and potentially affecting our nominations to the World Heritage List.
John was particularly struck by the proactive work of the Gas and Preservation Partnership, introduced by Marion Werkheiser of Cultural Heritage Partners, during the Conference as an example of private companies voluntarily conducting cultural resource reviews before starting the fracking process. To round-out his trip, John and architectural historian Oscar Beisert, visited John's family estate in Louisville, Kentucky, known as Oxmoor, a ca. 1785, operated by a family foundation.
As a professional preservationist and citizen advocate in Buffalo, NY prior to our work with us in DC, Meagan Baco, Program Coordinator, participated in many preservation projects, including two that she spoke on, including:
*
Creating the largest tax credit eligible National Register district in the Elmwood neighborhood with Clinton Brown Company Architecture, a Preservation Action member, that has brought in more than $2 million dollar of private investment into the neighborhood, along with the honor of official listing.
*
Leading the online portion of the grassroots I'm Steel Standing campaign to save the ca. 1901 Bethlehem Steel administration building from demolition in Lackawanna, NY that got national attention, including a plan to purchase the  building, and two law suits, but was ultimately unsuccessful.
That's all when Meagan was not busy with auction intern, Carla Patterson, running the Silver Label Auction for the Preservation Action Foundation, that by all accounts was one of the best parties, thanks for the hard work of Indiana Landmarks, especially Marsh David, Lorraine Vavul, and Tina Connors, with help from Tina Hochberg at the National Trust for Historic Preservation.
As we turn our attention now to planning National Historic Preservation Advocacy Week coming up on March 2-6, 2014, we hope to see many Conference participants here on our tuff, in Washington, DC.