<!–/ .post-meta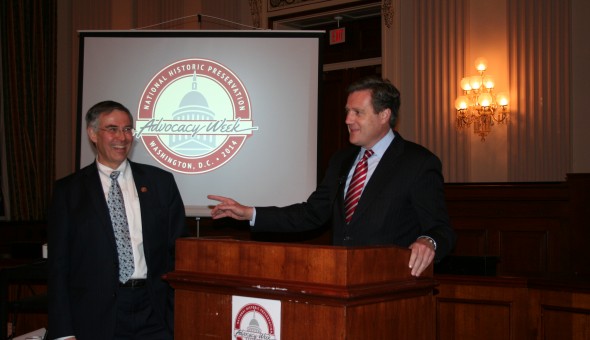 Preservation Action, Legislative Update
Volume 17, Number 10, March 7, 2014 →
President Obama Releases FY 2015 Budget Request
Michael Degnan of the White House Council on Environmental Quality presented highlights of the President's FY 2015 budget during Advocacy Week's Domestic Policy Briefing.
The budget requests $2.6 billion for the Department of Interior.
The Historic Preservation Fund budget request is $56.4 million – the same as the current FY 2014 funding numbers — $46.9 for grants to states and territories and $9 million to tribes. It also includes $500,000 grants for underrepresented communities.
There is an additional funding request for $6 million under the proposed Opportunity, Growth and Security Initiative grants to SHPOS and THPOs to digitize legacy data into an online National Inventory. It also includes funds for the National Park Service to provide technical assistance.
The budget also launches a Centennial Initiative for the National Parks Service which intends to prepare for the next 100 years. It requests $40 million to prepare for and celebrate the centennial. There is $16 million for repair and rehabilitation and $8 million to hire youth and veterans and other Americans to restore historical, cultural, and natural treasures. It includes $10 million for a matching grant program for Centennial Challenge projects and partnerships at national parks.
See the Department of Interior Budget Request →
Read the Full White House Budget →
Keep the Historic Tax Credit!
We've been here before – and we'll fight it again.
When Preservation Action began 40 years ago, cities across the country were destroying empty and ignored historic structures as part of urban renewal. At that crucial moment, founding President, Nellie Longsworth, gathered with preservationists to urge Congress to create the federal rehabilitation tax credit.
And here we go again. Just as more state legislatures are passing historic tax credit bills and communities are rebuilding because of new investment and growth spurred by tax credits, Rep. Dave Camp (R-MI), Chairman of the House Ways and Means Committee, introduced a proposal to eliminate the federal Historic Tax Credit.
Preservation are not taking this lightly. This is the most significant threat to preservation we've had in years.
We must ramp up our activities to let Chairman Camp and every member of Congress know that the tax credit is a significant investment tool. A coalition letter led by the National Trust for Historic Preservation and preservation partners circulating the Hill was signed by over 325 organizations.
Download the HTC Organizational Sign-On Letter →
Advocacy Week and Hill Meeting Follow-Up
Hometown Focus on Tax Credit Success
Over 100 preservationists walked the halls of Capitol Hill to make their voices heard during Advocacy Week having 200 Congressional meetings.
With Congress a tax reform proposal on the table – despite calls that it won't move – we must rally not just in Washington, but back in our home states to let Congress know the importance of this federal tool to economic development and job creation.
During the Advocacy Scholars breakfast on the Hill, Rep. Blumenauer (D-OR) urged preservationists to continue to make our voices heard with members during the in-district work periods.
Preservation Action in-District Follow-up Checklist:
Now that meetings in Washington, DC are over, preservationists must immediately follow up with member offices.
During the upcoming Congressional in-district work periods, it is critical that you keep up the momentum. Educate your member of Congress on the tax credit in your local community.
We're counting on grassroots activists to help save the tax credit.
Introduce yourself to your US Senate and US House of Representative members' District office staff.
Identify a tax project in your community for Congressional visits.
Invite the Members and their staff to tour a tax project.
Request a meeting with your Member of Congress in their district.
Invite the member of Congress to speak at a local event on historic preservation.
New Reports Introduced During Advocacy Week
Historic Preservation Fund 2013 Report →
Advisory Council on Historic Preservation Rightsizing Report →
House Passes Flood Insurance Bill
On Tuesday, March 4th the U.S. House of Representative overwhelmingly passed H.R. 3370, the Homeowner Flood Insurance Affordability Act sponsored by Representatives Michael Grimm (R-NY) and Maxine Waters (D-CA) with a vote of 306-91.
The Senate version of the bill, S.1926, which was introduced by Senators Johnny Isakson (R-GA), and Robert Menendez, (D-NJ), was approved by the Senate by a vote of 67 to 32 on January 30th.
The bipartisan legislation now being referred to as the Menendez/Grimm Homeowner Flood Insurance Affordability Act of 2014 will reverse changes to the National Flood Insurance Program (NFIP) introduced by the Biggert-Waters Flood Insurance Reform Act of 2012, including preventing flood insurance rates from skyrocketing and requiring that the Federal Emergency Management Agency (FEMA) address affordability issues before any flood insurance premiums can be raised in the future as well as display more transparency.
The Senate bill would have delayed any rate hikes for four years while FEMA seeks changes. The House version would not delay the hikes, but limit them.
Advocacy Week Photos
Please send your Advocacy Week photos to Preservation Action
#gallery-1 { margin: auto; } #gallery-1 .gallery-item { float: left; margin-top: 10px; text-align: center; width: 33%; } #gallery-1 img { border: 2px solid #cfcfcf; } #gallery-1 .gallery-caption { margin-left: 0; } /* see gallery_shortcode() in wp-includes/media.php */