<!–/ .post-meta
Preservation Action, Legislative Update
Volume 20, Number 07, March 03, 2017 →
Ryan Zinke Confirmed as the New Secretary of the Interior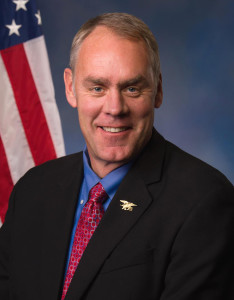 This week, Rep. Ryan Zinke (R-MT) was confirmed as the new Secretary of the Interior. The Senate easily confirmed Secretary Zinke, in a 68-31 vote, 17 Democrats joined with Republicans. Secretary Zinke won over some democrats with his support of the Land and Water Conservation Fund, and opposition to the sale or transfer of public lands.
Secretary Zinke will take over for previous DOI Secretary, Sally Jewell and be responsible for overseeing the management and conservation of most of our federal lands. Secretary Zinke will also oversee some of our most important historic preservation programs. Programs like the Land and Water Conservation Fund, the Historic Preservation Fund, and the Historic Rehabilitation Tax Credit Program. During his confirmation hearing before the Senate Energy and Natural Resources committee, Secretary Zinke said he wants to address the maintenance backlog at the National Park Service; saying he is:
"(I'm) committed to a jobs and infrastructure bill, and I am committed and need your help in making sure that bill includes our national treasures."
Trump Administration Seeks Cuts at Interior, Secretary Zinke Says He Will Fight Back
President Trump signed off on top line numbers in his annual budget and sent a budget outline to departments and agencies. These numbers include a large increase in defense spending and deep cuts in discretionary spending. Sources familiar with the budget indicate that the Trump Administration is looking to cut 10% from the Department of Interior budget. Based on the previous budget, that would be roughly a cut of $1.3 billion. President Trump is expected to submit his full budget proposal to Congress in May.
Speaking today to Department of Interior employees, newly confirmed Interior Secretary, Ryan Zinke, said he would fight back against proposals to cut funding for the department by 10%. Adding:
"I looked at the budget," Zinke said. "I'm not happy. But we're going to fight about it, and I think I'm going to win at the end of the day."
Secretary Zinke also laid out his top priorities during his address to Interior employees, which included reducing the National Park Service backlog. Saying that our National Parks are behind in infrastructure and he wants to fix it. He also repeated his vow to oppose the sale or transfer public lands.
Preservation Action will continue to follow the budget process and advocate for robust funding for historic preservation programs, including the Historic Preservation Fund.
Historic Tax Credit Improvement Act Gaining Cosponsors. Encourage Your Members to Sign-on
In February, Senator Susan Collins (R-ME) and Senator Ben Cardin (D-MD) in the Senate (S.425) and Representatives Mike Kelly (R-PA) and Earl Blumenauer (D-OR) in the House (H.R 1158), introduced the Historic Tax Credit Improvement Act. The legislation, similar to bills introduced in previous congresses, would improve and enhance the Federal Rehabilitation Tax Credit program.The bill would increase the tax credit from 20% to 30% on projects with less than $2.5 million in qualified rehabilitation expenses.
While this legislation is a positive step, it does not eliminate the ongoing threat to the historic tax credit program posed by tax reform efforts. Congressional leaders and President Trump have targeted tax deductions, like the Historic Tax Credit for elimination as part of tax reform efforts. Introduction of the HTCIA does, however, allow for members of Congress to positively demonstrate their support of the HTC. So far, H.R 1158 is off to a great start and currently has 25 cosponsors, including the entire Mississippi congressional delegation. Reach out to your Representative and Senators and ask them to sign on to the Historic Tax Credit Improvement Act. Our partners at the National Trust for Historic Preservation have created an easy to use tool to send a customizable letter to your members of congress requesting their support.
Urge your Members of Congress to Cosponsor the HTC Improvement Act →
Also be sure to check out out our Action Alert for more information on this important issue and find out other ways you can help!
Advocacy Week is Right Around the Corner. Register Today!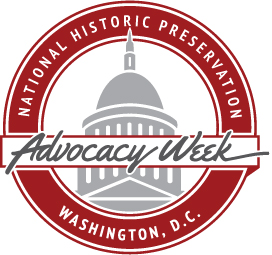 National Historic Preservation Advocacy Week 2017 is less than 2 weeks away! Be sure to register by Friday March 10th!
Join us for Advocacy Week 2017 at the Liaison Hotel on Capitol Hill from March 14-16. Registration includes in-depth training and policy briefings from an array of preservation and policy professionals. Ticketed events offer additional meetings with elected officials, their staff, and a national network of preservation advocates. Advocacy Week is our annual opportunity to have a mass impact on policy makers in support of preservation-positive legislation. With the Historic Tax Credit severely threatened by tax reform efforts, we need your voice! Register today!
Advocacy Week Agenda and One-pagers Now Available
Get all the documents you need for Advocacy Week. The preliminary agenda is now ready for download. The issue one-pagers are also ready and available for download in both pdf and .docx formats. Download today!
Preservation Action and the National Conference of State Historic Preservation Offices (NCSHPO) organize our industry's Advocacy Week each year, bringing over 250 preservationists to Washington, DC to promote sound federal preservation policy and programs.
Stories From Around the States
Alabama: "A.G Gaston Motel to be Restored as National Park Service Moves into Birmingham"
Maine: "Sen. Collins Pushes Bill to Enhance Federal Historic Tax Credits"
Alabama: "New Historic Renovation Tax Credit Introduced in Alabama Legislature"
Preservation Action in the News
New York: "Lace Mill Apartment Complex Recognized as One of 'Preservation's Best of 2016'"
<!–/ .post
<!– Start Commentform <!– #respond