<!–/ .post-meta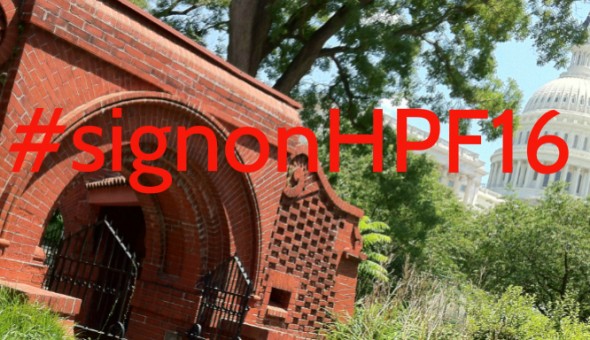 Preservation Action, Legislative Update
Volume 18, Number 12, March 27, 2015 →
22 Senators Sign-on to HPF Dear Colleague Letter
Thank you to everyone who contacted their Senators and helped spread the word! Thanks to those efforts, the Senate FY16 Historic Preservation Fund Dear Colleague Letter received 22 signatures! This is just 1 signature shy of last year's letter total of 23. Several new Senators signed on to this year's dear colleague letter, including Senators Warren (D-MA), Stabenow (D-MI), Booker (D-NJ), Heinrich (D-NM), Reed (D-RI), Warner (D-VA), and Cantwell (D-WA).
Including the 102 Representatives who signed on, a total of 124 members of congress signed on to the HPF Dear colleague letter. This shows substantial bipartisan support for the HPF.
This years HPF Dear Colleague letter includes a substantial increase over 2015 enacted levels. The letter supports the President's budget request of $89.91 million, an increase of $33.5 million over 2015 enacted levels. This includes $46.9 million or level funding for State Historic Preservation Officers,  a $1 million increase for Tribal Historic Preservation Officers to $9.9 million, $30 million for the civil rights initiative competitive grant program and $2.5 million in competitive grants for Historically Black Colleges and Universities.
Thank you to everyone for another successful HPF Dear Colleague letter campaign! Preservation Action will keep posted as the appropriations process continues to develop. If your Representative or Senators  signed on to this year's letter, take a moment to thank them for supporting historic preservation! See the full list below.
See the Senators that Signed-On →
See the Representatives that Signed-On →
Legislation Introduced in House and Senate to Promote Historic Preservation Education at Hispanic Serving Institutions
Senators Tom Udall (D-NM), Martin Heinrich (D-NM), Robert Menendez (D-NJ), and Marco Rubio (R-FL) introduced the Preservation Research at Institutions Serving Minorities (PRISM) Act this week. This legislation would amend the National Historic Preservation Act to give colleges and universities with high enrollment of Hispanic students access to a grant program that encourages students to engage historic and cultural projects. This is similar to grant programs already available for Historically Black Colleges and Universities, Tribal Colleges and Universities, and non-tribal colleges with a high enrollment of Native Americans or Native Hawaiians. The new grant program would be open to Hispanic Serving Institutions, which is defined as not-for-profit institutions of higher learning, where the Hispanic, full-time undergraduate enrollment constitutes 25% of the total full-time undergraduate enrollment.
Companion legislation was also introduced this week in the House by Representatives Grijalva (D-AZ), Corrine Brown (D-FL), Lacy Clay (D-MO), Alcee Hastings (D-FL), Yvette Clark (D-NY), Juan Vargas (D-CA), and Pedro Pierluisi (D-PR). The legislation was referred to the House Committee on Natural Resources and the Senate Energy and Natural Resources Committee. Senator Marco Rubio described the PRISM Act as
"The PRISM Act would ensure that our country's Hispanic-Serving Institutions have the same access to preservation and cultural education programs as other minority-serving colleges and universities,"
NATHPO Testifies Before Congress
Bambi Kraus, president of the National Association of Tribal Historic Preservation Officers (NATHPO), testified before the House Interior Subcommittee on Appropriations this week. She urged the subcommittee to support $15 million for THPO funding. Despite the number of tribes participating in the THPO program more than doubling over the last 10 years, THPO funding has remained stagnant. President Obama's FY16 budget request calls for a modest $1 million increase to THPO funding to $9.9 million. NATHPO's testimony also supported $60 million for SHPOs funding, $30 million for the civil rights initiative grant program and the $2.5 million in competetive grants for the Historically Black Colleges and Universities.
North Carolina House Passes Historic Tax Credit Legislation
The North Carolina House of Representatives passed H.B 152, which would reinstate an historic rehabilitation tax credit in N.C. State legislators failed to renew the program at the end last year's session. Since expiration of the program, Gov. Pat Mcrory has made renewing historic tax credits one of the top goals of his administration, highlighting the program in his State of the State address and touring projects from across the state that benefited from the program. H.B 152 would establish a 15% income tax credit for up to $10 million of the cost of rehabilitating designated historic structures. It would also provide a 10% tax credit on costs between $10 and $20 million. This is a scaled back version of the historic tax credit that expired at the end of 2014.
Attention now shifts to the North Carolina Senate, where companion legislation, S.B 287, is awaiting debate in the Finance Committee. The Senate bill faces opposition from Republican leaders who have expressed interest in establishing a grant fund for historic preservation instead of the tax credit program. Preservation North Carolina continues to track this bill, as it makes it's way through the Senate.
Remember to Return Your Hill Report Forms
Thank you all for a great National Historic Preservation Advocacy Week! If you haven't already, please return your hill report forms as soon as possible. Knowing who you met with and how the meetings went is essential for Preservation Action and the National Conference of State Historic Preservation Officer's continued advocacy. Reports from the Hill meetings allows us to help you. A copy of the form was included in your briefing packet, and can be filled out and downloaded here. The completed form can be emailed to rnaylor@preservationaction.org , faxed to 202-463-1299, or simply mailed to our office.
Preservation Action
1307 New Hampshire Ave. NW
Third Floor
Washington, DC 20036
Stories From Around the States
New York: "Governor Cuomo Announces $4.9 Million To Repair Historic Properties Damaged by Super Storm Sandy"
New York: "Fast-Tracked Zoning Proposal Would Raise Building Heights Throughout New York City"
Georgia: "Georgia House Expands Tax Credits for Historic Renovation"
Florida: "A Community 'PACT' to Preserve, Share Historic Black Cemeteries"