<!–/ .post-meta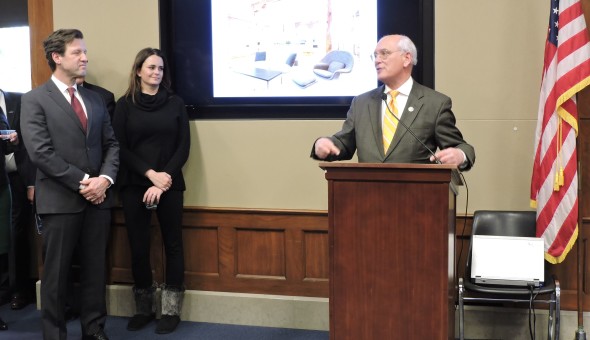 Preservation Action, Legislative Update
Volume 20, Number 08, March 24, 2017 →
Urge Your Members of Congress to Sign-on to the FY18 HPF Dear Colleague Letter
Congress is currently determining funding levels for the remainder of Fiscal Year 2017 and starting the process for FY18 for historic preservation. They need to hear from you right now. It is critical that all advocates of historic preservation reach out to their members of Congress to notify and urge them to sign onto the House/Senate "HPF Dear Colleague" letters which shows support for the Historic Preservation Fund.
The Historic Preservation Fund (HPF) provides vital funds for historic preservation and protection programs. This year's House Dear Colleague letter request $83.4 million, including $47.925 million for State Historic Preservation Offices, $11.985 million for Tribal Historic Preservation Offices, and $500,000 in grants to underserved communities. In addition, the request includes $13 million for competitive grants for the Civil Rights initiative, and $5 million in competitive grants for Historically Black Colleges and Universities. This request is equal to level of funds included in the House passed FY17 Interior Appropriations bill.
Contact your members of Congress and request that he/she signs onto the FY18 Historic Preservation Fund Dear Colleague Appropriations letter being circulated by Reps. Michael Turner (R-OH) and Earl Blumenauer (D-OR). To maximize the impact of this letter we need as many Members as possible to sign.
To sign onto the letter, members' offices should contact Jeffrey Wilson in Rep. Turner's (R-OH) office at 202-225-6465 or jeffrey.wilson@mail.house.gov or Paul Balmer in Rep. Blumenauer's (D-OR) office at 202-225-4811 or paul.balmer@mail.house.gov. Sign on deadline is Thursday, March 30th at 5pm (EST). Check out our HPF Dear Colleague letter Action Alert below for more information.
FY18 HPF Dear Colleague Letter Action Alert →
Search for your Representative by Zip Code → 
President Trump Releases Budget Blueprint, Could Significantly Impact Historic Preservation
This month President Trump released the "America First" Budget Blueprint or "skinny" budget for fiscal year 2018. This budget does not provide detailed appropriations numbers, but does provide top-line numbers for agencies and outlines spending priorities for the Trump administration. President Trump is expected to release his administration's full budget request in May.
Overall, the budget substantially increases defense spending while significantly cutting domestic spending. The proposed budget blueprint request $11.5 billion for the Department of Interior (DOI) a decrease of $1.5 billion or 12% below FY16 enacted levels. The DOI oversees the National Park Service (NPS) and many of our historic preservation programs and protections, like the Historic Preservation Fund, the Historic Tax Credit, and National Heritage Areas. While the budget outline does not go into details on spending levels for the NPS or historic preservation programs, it does highlight key priorities for the administration, which could mean significant cuts to historic preservation.
The proposed budget outline reduces funding for land acquisition, which could impact a National Park's ability to protect threatened historic resources. The budget also proposes the elimination of "unnecessary, lower priority, or duplicative programs" and specifically proposes eliminating the National Heritage Areas program. Other areas of the budget could also see significant cuts to programs important to preservationists. The request proposes the elimination of the National Endowment for the Humanities, the National Endowment for the Arts, and the Neighborhood Reinvestment Corporation to name a few.
Preservation Action will continue to track the budget process and advocate for robust spending for historic preservation. The current Continuing Resolution passed in December expires on April 28th. At that time, lawmakers will need to pass either some kind of FY17 Omnibus package or another CR. President Trump is expected to release his full FY18 budget request in May and Congress will start their appropriations process. While several of the proposed cuts included in the "skinny" budget are very concerning to preservationists, everything has to go through Congress. As Mitch Butler of Natural Resources Results put it during Advocacy Week, the old saying in Washington, goes "the President proposes and Congress disposes".
Thanks for Another Great Advocacy Week
Thanks to everyone who battled the weather and came out for National Historic Preservation Advocacy Week. Thanks to all of the participants, sponsors and supporters who helped make it all possible. We had over 200 meetings scheduled, representing 42 states!
Return Hill Meetings Report Forms
Knowing who you met with and how the meetings went is essential for Preservation Action and National Conference of State Historic Preservation Officers staff for their continued advocacy. Reports can be completed online and takes less than 10 minutes (in case anyone had difficulty entering multiple reports, it should be working now).
Complete Your Hill Report Form Online Today! →
A copy of the form was also included in your briefing packet, and can be downloaded here. Completed forms can also be emailed to mail@preservationaction.org, or simply mailed to our office.
Follow Up
As preservationists return to the their home states, Preservation Action is counting on grassroots activists to keep up at the advocacy!
–Follow up with your members of Congress and their staff you met during your hill visits. Perhaps send a personal thank you note.
–Urge your members of congress to sign-on to the FY18 HPF Dear Colleague Letter
–Urge your members of Congress to co-sponsor the Historic Tax Credit Improvement Act (S. 425, H.R 1158)
–Request a meeting with your member of Congress in their district. The next congressional in-district period is April 7-24th.
–Invite the members and their district staff to tour tax credit projects or historic sites.
–Invite the member of Congress to speak at a local event on historic preservation.
National News
The Hill: "Opinion: Why Trump Should Support CBC Priority"
ACHP: "Announcing the ACHP's Recommendations for the Future of the National Historic Preservation Program"
Stories From Around the State
Maryland: "Make Preservation Grants in Maryland a Reality"
Alabama: "Historic Tax Credit Takes a Step Forward, But With Significant Changes"
Wisconsin: "Mitchell Park Domes Named a National Treasure"
Preservation Action in the News
New York: "New York Efforts Win "Preservation's Best of 2016" in DC"
Ohio: "Cincinnati Neighborhood Wins Major Preservation Award"