<!–/ .post-meta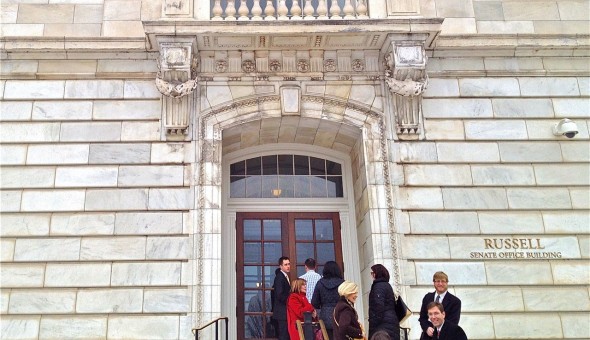 The big event has come and gone—earlier this week more than  250 preservation advocates from around the country participated in the events surrounding Historic Preservation Advocacy Day. Our theme this year, Preservation Keeps U.S. together, underscored the importance of cooperative and bipartisan activism by the preservation community.
Monday's advocacy lunch featured Mr. Storm Cunningham, a nationally recognized speaker and an expert in community revitalization and natural resource restoration. Mr. Cunningham encouraged advocates to re-think the way we view fundraising and open up to potential use of crowdfunding.
That afternoon, in the Astor Ballroom of the St. Regis Washington, DC, preservation advocates received in-depth issue briefings on the key issues we will face in the upcoming year, including discussions of the Historic Tax Credit and Historic Preservation Fund. Also discussed were successes of last year, most notably the efforts of Preservation Action and our partners to secure $50 million in funding from the Historic Preservation Fund in the Hurricane Sandy Relief Bill.
That evening, more than 100 advocates gathered in the Cannon Caucus Room for the Preservation Action Foundation's annual "Hill" reception. Also included at the reception this year were the J. Timothy Anderson Awards for Excellence in Historic Rehabilitation – presented by the National Rehabilitation and Housing Association and the National Trust Community Investment Corporation.
In all, ten Congressional members attended the event including Sens. Richard Blumenthal (D-CT), David Vitter (R-LA), Chris Murphy (D-CT), and Richard Burr (R-NC), along with Reps. Virginia Foxx (R-NC), James Lankford (R-OK), Earl Blumenauer (D-OR), and Randy Hultgren (R-IL). Reps. Rush Holt (D-NJ) and Mike Turner (R-OH), co-chairs of the Historic Preservation Caucus, both addressed the assembled advocates, thanked them for their work, and outlined several key initiatives going forward.
Hill visit reports are just starting to be turned in. If you are a state coordinator, you can fill out your hill reports from this year by clicking here. Initial reports suggest that members were open to discussions of our legislative priorities and the Historic Preservation Caucus. As reports continue to come in, we will issue a more thorough report. Thank you to all who made Advocacy Day the success that it was!