<!–/ .post-meta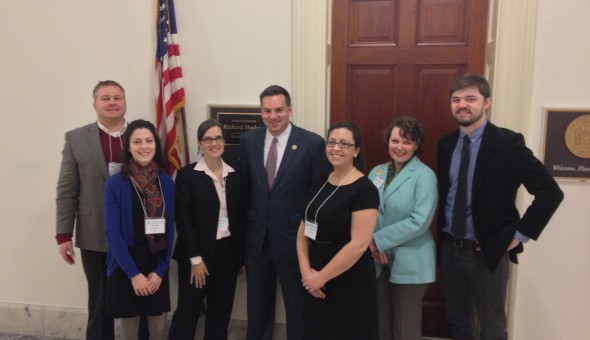 Before I participated in the 2013 National Historic Preservation Advocacy Week, I considered myself a pretty informed, passionate preservation graduate student. I could talk ad nauseam about how much I love old buildings—the stories they tell, the history the represent, the beauty they reflect. I knew all about the environmental benefits of rehab projects. I even knew all about the economic benefits of preservation.
It was really only after I participated in in Lobby Day that I felt like I could really talk about preservation in a really persuasive way. My cohort and I (all first-year graduate students at the University of North Carolina at Greensboro) had prepared for the event during our Preservation Law course the previous semester, and the and Preservation Action and National Council of State Historic Preservation Officers staff also gave us a wealth of information to use in our meetings on the Hill the next day.
However, the meetings themselves were by far some of the most educational experiences I have had in my program. Part of it was simple repetition; with thirteen Representatives and the two Senators representing North Carolina, we each participated in at least eight meetings that day. More than that, the experience was truly empowering; the first meeting was nerve-wracking, but by lunchtime, my group had worked out a routine and I had gained so much confidence.
It's one thing to know why preservation is important. It's another to be able to effectively articulate its importance to others. Lobby Day was a chance for my cohort to put theory into practice, and it was an invaluable experience.
In addition to becoming a more self-assured and confident preservationist, I was also energized and inspired by the great people I met during my Lobby Day experience. Meeting the SHPOs, Preservation Action and NCSHPO staff, and the other activists and developers who joined my cohort in our meetings left me sure that I was entering the right field and excited to feel like I could make a difference.
Sunny Townes Stewart is a lifelong preservationist, even though she only actually realized it a couple of years ago. In 2012, she left her job at an art and history museum to pursue what has become her passion. She is currently enrolled in the University of North Carolina at Greensboro's History/Historic Preservation graduate program and will graduate with her second master's degree in August 2014 (she earned her first in history from Appalachian State University). She lives in the mountain town of Boone, North Carolina. Learn more about Sunny and her preservation adventures on her personal blog, a touch of history.
Preservation Action sends a special thank you to Sunny for volunteering to spend the Sunday before Lobby Day with us prepping for over 250 preservationists to descend upon The Hill!