<!–/ .post-meta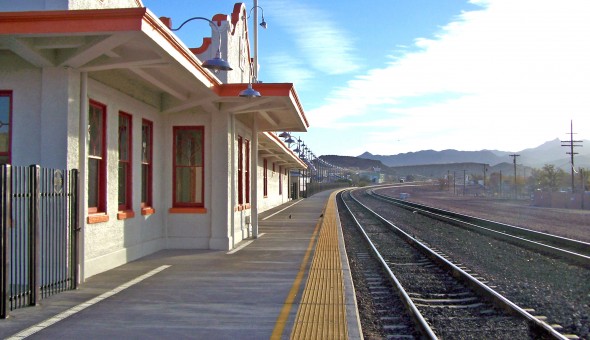 Amtrak's Great American Stations Project
Approximately one-third of all Amtrak-served stations are listed on the National Register, and many are also included on state and/or local registers. The depot is one of the most visible reminders of America's extensive railroad heritage and represents a variety of architectural styles. Train stations can ignite economic development, spur tourism and historic preservation efforts, figure into public realm improvements, and serve as sites for cultural uses.
Amtrak's Great American Stations Project website offers information related to historic designation, historic preservation tax credits and depot preservation case studies. Through annual Civic Conversations, Amtrak hosts conferences for city, state and railroad officials to discuss strategies for building, preserving, restoring and upgrading existing Amtrak-served train stations.
Amtrak notes that a dozen federal grant programs have proven useful for station improvements that run the gamut from installing a new roof to repointing mortar. The Federal Highway Administration's Transportation Alternatives (TA) program (formerly known as Transportation Enhancements (TE)) has been a tool for preservation and rehabilitation of historic transportation facilities.
In Greensburg, Pa., Westmoreland Cultural Trust used a $1.3 million TE grant to renovate the town's Jacobean Revival depot in the mid-1990s. A successful mixed-use project, the building today houses a farm-to-table restaurant, passenger waiting area and professional offices. A $2.2 million TE grant matched with approximately $542,000 in local funds enabled the city of Longview, Texas, to renovate its depot. Workers rebuilt the original dormer windows and restored an open-air waiting room that had been enclosed. In addition to passenger functions, the multimodal transportation center now includes community meeting space and offices for the Union Pacific Railroad and police department.
Amtrak serves more than 500 destinations in 46 states, but the majority of stations are owned and managed by municipalities, transit authorities and private freight railroads. Amtrak established the Great American Stations Project to educate communities on the benefits of redeveloping train stations, offer tools to civic leaders to preserve their stations and other resources.
For more information on the program, contact Amtrak via their website.
#gallery-1 { margin: auto; } #gallery-1 .gallery-item { float: left; margin-top: 10px; text-align: center; width: 33%; } #gallery-1 img { border: 2px solid #cfcfcf; } #gallery-1 .gallery-caption { margin-left: 0; } /* see gallery_shortcode() in wp-includes/media.php */
<!–/ .post
<!– Start Commentform <!– #respond