<!–/ .post-meta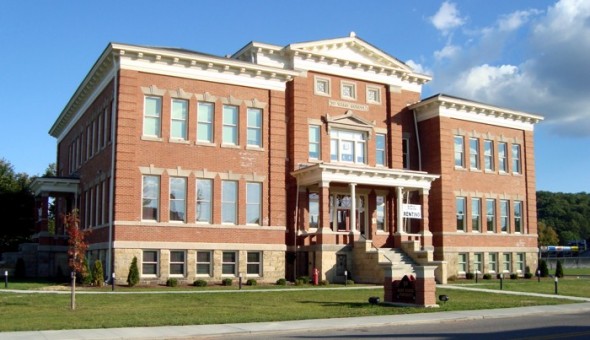 The National Housing & Rehabilitation Association (NH&RA) is a national trade association of professionals involved in multifamily affordable housing that often utilize historic tax credits and grants. Each year they honor exceptional projects through the J. Timothy Anderson Awards. Project summaries are shared here by Preservation Action with permission and congratulations.
First Ward School Apartments, Elking, WV
The J. Timothy Anderson Awards for Excellence in Historic Preservation
Best Historic Rehabilitation Utilizing Low-Income Housing Tax Credits
(Small, Development Costs of $5 million or Less)
Placed in service in July 2013, this $3.7 million development involved the rehabilitation and adaptive reuse of a two-story building constructing in 1908 that was used for nearly 70 years as a public school before closing in 1976. The historic structure was then used for more than three decades primarily for storage for the county school board. Vacant and deteriorating, the First Ward School was included in the 2009 Endangered List of the Preservation Alliance of West Virginia. The board transferred the vacant and deteriorated building to a local civic group (C-HOPE), which obtained a grant to repair the roof and stabilize the structure with a deadline to rehabilitation the building for community use within five years.
"It is designed in the Georgian- Revival style by Fairmont architect Andrew C. Lyons and was constructed of locally available building materials such as hand-cut sandstone, brick, and native hardwoods. The eight room schoolhouse design was very modern for its day. It featured a modified "H" floor plan, rows of large double-hung windows, large open rooms with cloakrooms, twin sets of staircases, wide halls, indoor plumbing, washrooms, kitchen, electric lights, and central heat."
Photo and description provided by C-HOPE.
AU Associates, Inc., of Lexington, KY, renovated the building to create 16 affordable one- and two-bedroom apartment and turn the property over to the ultimate owner, Highland Community Builders, a local non-profit. Funding sources for the project included equity generated by federal housing and federal and state historic tax credits (syndicated by Community Affordable Housing Equity Corporation), a general partner equity, and a first mortgage from C-HOPE).
We [AU Associates, Inc.] were delighted to work with West Virginia's State Historic Preservation Office under the leadership of Susan Pierce. Their mission of encouraging, supporting, assisting and participating in historic preservation activities was clearly instrumental in the success of First Ward School. We have treasured our time and work with historic buildings throughout the state of West Virginia, and we look forward to working on many more with the continued partnership of Susan and her organization. — Holly Wiedemann, principal of AU Associates, Inc
Holly Wiedemann, principal of AU Associates, on the Importance of Historic Tax Credits
Historic Photographs
#gallery-1 { margin: auto; } #gallery-1 .gallery-item { float: left; margin-top: 10px; text-align: center; width: 33%; } #gallery-1 img { border: 2px solid #cfcfcf; } #gallery-1 .gallery-caption { margin-left: 0; } /* see gallery_shortcode() in wp-includes/media.php */
After Photographs
#gallery-2 { margin: auto; } #gallery-2 .gallery-item { float: left; margin-top: 10px; text-align: center; width: 33%; } #gallery-2 img { border: 2px solid #cfcfcf; } #gallery-2 .gallery-caption { margin-left: 0; } /* see gallery_shortcode() in wp-includes/media.php */
Before Images
#gallery-3 { margin: auto; } #gallery-3 .gallery-item { float: left; margin-top: 10px; text-align: center; width: 33%; } #gallery-3 img { border: 2px solid #cfcfcf; } #gallery-3 .gallery-caption { margin-left: 0; } /* see gallery_shortcode() in wp-includes/media.php */
In the News
"First Ward apartments dedicated," The Inter-Mountain; September 25, 2013
Thank you to Allison Sherman of NH&RA and Holly Wiedemann, of AU Associaties for provided the information for this Preservation Story. Submit your Story here →
<!–/ .post
<!– Start Commentform <!– #respond