<!–/ .post-meta
Preservation Action, Legislative Update
Volume 20, Number 02, January 20, 2017 →
Senate Holds Confirmation Hearing for Preisdent Trump's Pick to Lead the Interior Department, Rep. Zinke
This week the Senate held several confirmation hearings of President Trump's cabinet appointments, including his pick to lead the Department of the Interior, Rep. Ryan Zinke (R-MT). Rep. Zinke testified before the Senate Energy and Natural Resources Committee, taking questions from Democrats and Republicans serving on the committee. The hearing went smoothly with only a few contentious moments. Rep. Zinke is expected to be confirmed easily as the next Secretary of Interior, replacing Sally Jewell. Rep. ZInke is not one of the appointments Senate democrats plan to attempt to block or discredit.
One notable moment during Rep. Zinke's confirmation hearing, came when he was questioned by Sen. Bernie Sanders (I-VT) on whether he would support the sale of public land. A frequent target by some Republicans, but something President Trump said he would oppose. Rep. Zinke responded "I am absolutely against the transfer or sale of public land". Last year Rep. Zinke left his post on the GOP platform writing committee, after the group included language in support of transferring federal lands to the states.
During questioning about the maintenance backlog at the National Park Service, Rep. Zinke said he is committed to addressing the growing backlog and would work to include NPS infrastructure projects as part of a larger infrastructure bill often discussed by President Trump.
Rep. Zinke said he "is committed to a jobs and infrastructure bill, and I am committed and need your help in making sure that bill includes our national treasures."
On the issue of national monuments and President Obama's use of the Antiquities Act, his position was a little murkier. When asked about repealing some of President Obama's national monument designations, he committed to being an adviser for President Trump and working with state and local officials, but also stated that he believed the unilateral repeal of national monuments would be illegal and probably lead to a court challenge. Preservation Action will continue to follow the confirmation process of Rep. Zinke and his eventual picks to lead key agencies, like the National Park Service.
National Trust Leads Webinar on Addressing Threat to the Historic Tax Credit and Preservation Policy in the 115th Congress
The National Trust for Historic Preservation led a webinar this week on the efforts to address the current threat to the historic tax credit and addressing other challenges and opportunities for preservation in the 115th Congress. President of the National Trust, Stephanie Meeks, joined the webinar to discuss the current threat to the historic tax credit and their advocacy efforts. The National Trust for Historic Preservation along with the National Trust for Community Investment Corporation, and the Historic Tax Credit Coalition discussed their expanded lobbying efforts, including hiring a new lobbying firm.
As you know, both President Trump and congressional leaders have targeted tax reform as a top priority. We expect tax reform legislation, which could be released as soon as next month, to be in line with previous Republican proposals like the GOP Tax Reform Blueprint released in June, which targets tax programs, like the historic tax credit, for repeal. This may be the biggest threat to the historic tax credit in the 38 year history of the program. Leading lobbyists and tax credit experts at the National Trust highlighted the importance for grassroots advocacy as the best way to combat this threat. Join us for National Historic Preservation Advocacy Week, March 14-16th, in Washington, D.C. Advocacy Week will be our best opportunity to have a mass impact on decision makers in Washington, and our best opportunity to make the case for the Historic Tax Credit. Register today!
Did you miss the webinar? No problem, the webinar can be watched in its entirety online.
Preservation Maryland Launches Advocacy Effort for the Federal Historic Tax Credit Program
Preservation Maryland has launched a campaign encouraging elected officials at the local, county, state and federal level to sign on to a letter in support of the federal Historic Tax Credit program. The letter will then be sent to Congress and released to the media. This is great way for communities to demonstrate their support for the Historic Tax Credit, and what repeal of the program would mean at the local level.
Across the country, the Historic Tax Credit has generated over 2.3 million jobs, leveraged $120.8 billion in private investment, and rehabilitated 41,270 historic buildings, all while generating more federal tax revenue than the cost of the program. Repealing or weakening this program, though tax reform, could endanger the economic feasibility of nearly all historic rehabilitation projects.
Preservation Maryland has made it easy for Marylanders to contact their elected officials and request they sign-on to this letter. Check out their website for easy to use tools to look up your local officials and sample emails to request their support.
This is a great example of statewide advocacy! Let Preservation Action know about advocacy efforts in your state to protect the Historic Tax Credit! Email rnaylor@preservationaction.org.
Preservation Advocacy Week Registration Now Open!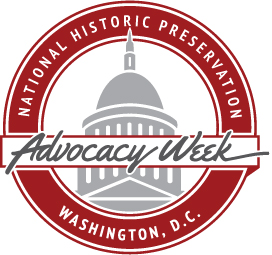 Registration for National Historic Preservation Advocacy Week 2017 is officially open! Be sure to register before February 13th to secure the best rates
Join us for Advocacy Week 2017 at the Liaison Hotel on Capitol Hill from March 14-16. Registration includes in-depth training and policy briefings from an array of preservation and policy professionals. Ticketed events offer additional meetings with elected officials, their staff, and a national network of preservation advocates. Advocacy Week is our annual opportunity to have a mass impact on policy makers in support of preservation-positive legislation. With the Historic Tax Credit severely threatened by tax reform efforts, we need your voice! Register today!
Also be sure to reserve your room at the Liaison Hotel today and lock in a special group rate of $279/night by calling 1-888-513-7445 or reserving online and using group ID "NC0313".
Preservation Action and the National Conference of State Historic Preservation Offices (NCSHPO) organize our industry's Advocacy Week each year, bringing over 250 preservationists to Washington, DC to promote sound federal preservation policy and programs.
Help us spread the word!
International News