<!–/ .post-meta
Preservation Action, Legislative Update
Volume 18, Number 2, January 16, 2015 →
Military LAND Act Reintroduced in the House
Rep. Darrell Issa (R-CA) once again introduced the Military LAND Act , as H.R 135, at the very beginning of the 114th congress. The bill was referred to the House Natural Resources Committee.
Rep. Issa introduced this bill in the previous congress and was successful in including the legislation in the National Defense and Authorization Act  (NDAA) passed by the House last May. However, thanks to advocacy of our members, partner organizations, and partners in the House and Senate, the final version of the NDAA, passed by Congress and signed by the president in December, did not include the Military LAND Act.
The Military LAND Act, reintroduced by Rep. Issa, would amend the National Historic Preservation Act to provide that if the head of the agency managing Federal property objects to the inclusion of certain property on the National Register or its designation as a National Historic Landmark for reasons of national security, the Federal property shall be neither included nor designated until the objection is withdrawn, and for other purposes.
Preservation Action believes this bill is harmful, unnecessary and undermines historic preservation. During consideration by the House Natural Resources Committee of last year's bill, the Department of Defense and National Park Service testified against the bill.
We need your help to stop this bill, before it gains any traction. Stop Congress from taking steps to undermine historic preservation. Please write members of the House Natural Resources Committee and ask them to oppose this harmful bill.
House Natural Resources Committee- 114th Congress
Sample Letter
January 16, 2015

Dear (Representative Name):

I am deeply concerned with H.R. 135, the Military LAND Act. This bill would amend the National Historic Preservation Act (NHPA) of 1966 to allow federal agencies to block and rescind the listing of federal properties on the National Register of Historic Places, National Historic Landmarks and on the World Heritage List for national security reasons. H.R. 135 wrongly raises alarm that designation of historic sites weakens the authority of federal agencies to protect our national security. There is nothing that imposes any legal constraint on federal agencies to protect the interests of national security.

In addition, the bill creates a new requirement of Congressional review that could unfairly politicize the process of evaluating historic significance which has existed without issue for the past nearly 50 years.

The NHPA provides the direction and tools to protect our historic resources and, importantly, sets up a clear process of consideration of our historic heritage. Federal, state, and local governments use the NHPA to identify, preserve and protect our historical, architectural, archeological and cultural resources. The National Register of Historic Places is currently comprised of more than 88,000 listings. Listing a property or determining the eligibility of a property for the National Register does not limit a federal agency's authority.

Please do not undermine our nation's historic preservation. I ask you to oppose H.R. 135 and any provisions that would weaken the NHPA.

Regards,

(Your Name)
National Trust Now Accepting Nominations for America's 11 Most Endangered Historic Places List
The National Trust for Historic Preservation is now accepting nominations  for 2015 America's 11 Most Endangered Historic Places List. Since 1988 the National Trust has used the list to raise awareness of threats to some of America's greatest national treasures. Since then, the list has brought national attention to over 250 historic sites.
If you know a significant historic site facing immediate threats, consider nominating it for America's 11 Most Endangered List. The deadline for submissions is March 2, 2015
Protect the Missouri Historic Tax Credit
The 2015 legislative session just began in Missouri and once again the Missouri Historic Tax Credit could be at risk of being cut. In 2009 the Missouri State Legislature instituted a cap of $140 million on the program and have attempted to further weaken the program every year since. In 2014 Missouri hit that cap, and is expected to exceed that cap in 2015. Missouri's HTC program is estimated to have leveraged $7.5 billion since it's inception in 1998. A further reduction in Missouri's HTC cap would impact the overall effectiveness of the program.
The Missouri Historic Revitalization Alliance is encouraging residents to show they're support of the HTC early and often. Find your Missouri House and Senate members and tell them to support the Missouri Historic Preservation Tax Credit. Also join them for Preservation Day on Feb. 11th at the Missouri State Capital, to show support for the Missouri HTC!
 Start Planning for Advocacy Week 2015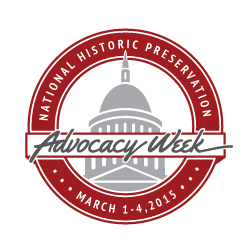 Advocacy Week is just around the corner. Join Preservation Action as we storm the Hill! Start making your plans to attend Advocacy Week today.
National Historic Preservation Advocacy Week will be held March 1-4, 2015 at the Fairfax on Embassy Row in Washington, D.C. Our room block is already available; call 888-627-8439 to make reservations and use group code 7266.
Preliminary Schedule:
Briefings & Training Hill Meetings
PA Congressional Reception
PA Board Meeting
NCSHPO Reception & Banquet
NCSHPO Annual Meeting
If your organization would like to hold briefings or meetings coinciding with Advocacy Week, please contact 202-624-5465.
Preservation Action and the National Conference of State Historic Preservation Offices (NCSHPO) organize our industry's Advocacy Week each year, bringing over 250 preservationists to Washington, DC to promote sound federal preservation policy and programs.
Help us spread the word!
Advocacy Week 2015 Save the Date (PDF) →
Legislative Efforts from Around the States
Maryland: Preservation Maryland's 2015 State Preservation Platform
New York: PLNYS: A Look Ahead to New York's 2015 Preservation Issues
Stories from Around the States
North Carolina: "N.C Department of Cultural Resources Issues Historic Preservation Tax Credit Alert"
Wisconsin: "Wisconsin Historic Tax Credits are Boosting Affordable Housing Projects"
District of Columbia: "At the Lincoln Cottage, 3-D Imaging is Preserving Every Bit and Byte of History"