<!–/ .post-meta
Preservation Action, Legislative Update
Volume 20, Number 01, January 13, 2017 →
115th Congress is Sworn-in and Gets to Work on New Agenda, Including Tax Reform
The 115th Congress was officially sworn in on January 3rd. Republicans once again remain in charge of both the House and Senate, albeit with slightly diminished margins. Republican lawmakers are eager to get to work on a number of legislative priorities, like repealing the Affordable Care Act and tax reform. President-elect Trump and House Speaker Paul Ryan have both targeted tax reform as a top priority of the new congress and administration, which could gain traction in the first 100 days. Perhaps more than ever before, the path forward on tax reform is clear. We expect tax reform legislation to be in line with the "A Better Way" tax reform blueprint proposed by House Republicans in June. The document proposed the elimination of tax credits and deductions, which would include the Historic Tax Credit. The Historic Tax Credit is in grave danger of elimination in tax reform.
The Historic Tax Credit (HTC) is the most significant federal financial commitment to historic preservation. Over the last 36 years, the credit has created 2.3 million jobs, leveraged $117 billion in investment, and rehabilitated more than 41,250 buildings-all while generating enough in federal revenue to pay for itself. As lawmakers are drafting tax reform legislation, members of congress (especially those on the House Ways and Means Committee and the Senate Finance Committee) need to hear from constituents in support of the Historic Tax Credit!
Take Action!
1. Contact House members of congress ASAP– Call (during office hours) or email the offices of your members of congress and ask to speak to tax staff or staff contacts you have in offices. If they are on the House Ways and Means Committee tell them to state their support for the Historic Tax Credit (HTC) when reviewing draft tax reform legislation. If they are not on the Ways and Means Committee- ask them to covey their support of the HTC to Chairman Kevin Brady other committee members. House Member lookup. Senators lookup.
Resources:
Check out the HTC Fact Sheet from the Historic Tax Credit Coalition and the HTC 1-pager from Advocacy Week 2016 for materials and talking points. Also check out the new interactive mapping tool from Novogradac and Company to see HTC projects in your state or district.
2. Join Webinar on Addressing the Threat to the HTC. Register today for a FREE webinar from Preservation Leadership Forum and the Government Relations team at the National Trust for Historic Preservation. Preservation partners and National Trust President and CEO, Stephanie Meeks, will discuss the most pressing policy issues facing preservation, including challenges to the federal historic tax credit. The webinar will stream live on Thurs., Jan. 19, 2-3 p.m. ET.
3. Attend Advocacy Week March 14-16th. One of the best ways to make your voice heard is in person, in Washington. Attend National Historic Preservation Advocacy Week, March 14-16th. Our annual advocacy week, brings over 250 preservationists to Washington D.C for 3 days to lobby congress for historic preservation policy, including the Historic Tax Credit. Advocacy Week registration is now open! Register today! Email rnaylor@preservationaction.org if you are interested in serving as a state coordinator.
President Obama Uses Final Days in Office to Designate New National Monuments
President Obama has used his final days in office to permanently protect naturally, culturally, and historically significant sites from across the country as National Monuments. His most recent designations solidifies his legacy as a champion of public lands, protecting more land and water as National Monuments than any other President in history. President Obama, just yesterday, used his powers under the Antiquities Act of 1906 to designate 3 National Monuments, permanently protecting several historically significant sites of the civil rights movement and reconstruction era.
The Birmingham Civil Rights National Monument, in Birmingham Alabama, recognizes and protects historically significant sites related to civil rights movement, including the A.G Gaston Motel, 16th Street Baptist Church, Kelly Ingram Park and Bethel Baptist Church. The Freedom Rider's National Monument in Anniston, Alabama recognizes sites of a prominent attack on a Greyhound bus carrying freedom riders. The sites include the Anniston Greyhound station and the site where the bus was eventually burned, 6 miles out of town. President Obama also designated the Reconstruction Era National Monument in Beaufort South Carolina. The designation uses sites in Beaufort, S.C, like the Brick Baptist Church, which was one of first schools for freed slaves, to tell the story of an often poorly understand period of American history, reconstruction.
In addition to the 3 new National Monuments announced yesterday, at the end of December, President Obama designated Bears Ears National Monument in Utah and the Gold Butte National Monument in Nevada. Both sites contain include unique geologic formations and irreplaceable cultural resources that could have been threatened by development. The Bears Ears designation will permanently protect 1.65 million acres of federal land in southeast Utah. The National Monument protects prominent geologic features and cultural resources; the area is also considered sacred by Native American tribes. The Gold Butte designation protects 300,000 acres of land 50 miles northeast of Las Vegas. Join us and our partners at the National Trust for Historic Preservation, in thanking President Obama for for his most recent National Monument designations and continued efforts to protect historically significant sites across the country.
President Obama has now used his power under the Antiquities Act to designate or expand 35 National Monuments.President Obama's use of the Antiquites have often drawn criticism from some conservatives, who consider President Obama's use of the Antiquities Act to be executive overreach. Last week, Sen. Lisa Murkowski (R-AK) with 25 cosponsors, introduced S. 33, which among other restrictions, would require congressional and state approval of all National Monument designations. This legislation would undermine the Antiquities Act, which has been used by both Democratic and Republican administrations, going back to Theodore Roosevelt, to permanently protect naturally, culturally and historically significant lands. Preservation Action will continue to oppose any efforts to restrict the Antiquities Act.
Department of Interior Names 24 New National Historic Landmarks
This week the Department of Interior announced 24 new National Historic Landmark designations from across the country. The National Historic Landmarks Program recognizes historic properties of exceptional value that represent the heritage of America. The program supports the preservation efforts of federal, state, local, and tribal agencies, as well as private organizations. The 24 new NHL's will join the more than 2,500 landmarks already recognized. These landmarks help to tell the shared history of America for future generations.
"As the National Park Service kicks off its second century of stewardship of America's natural and historic treasures, we look forward to connecting new generations of Americans to the places and stories recognized as National Historic Landmarks today," said National Park Service Acting Director Michael T. Reynolds.
The 24 national historic landmarks announced today are:
– The Medgar and Mrylie Evers House
– Wyandotte National Burying Ground
– Schomburg Center for Research in Black Culture
– The Greenhills Historic District
– Chicano Park
– Casa José Antonio Navarro
– Neutra Studio and Residences
– Kiem Homestead
– Schifferstadt
– The New York State Barge Canal
– The Kimball Village Site
– Our Lady of Guadalupe Mission Chapel
– Painted Desert Community Complex
– W. A. Young & Sons Foundry and Machine Shop
– Davis- Ferris Organ
– Pauli Murray Family Home
– Eldean Bridge
– West Union Bridge
– Omaha Union Station
– George Read II House
– Biesterfeldt Site
– Walrus Islands Archeological District
– 48GO305: "Hell Gap Paleoindian Site"
– May, 4 1970 Kent State Shootings Site
Preservation Advocacy Week Registration Now Open!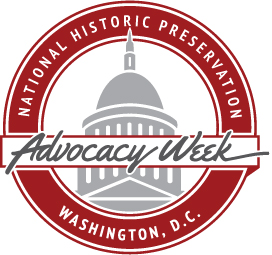 Registration for National Historic Preservation Advocacy Week 2017 is officially open! Be sure to register before February 13th to secure the best rates
Join us for Advocacy Week 2017 at the Liaison Hotel on Capitol Hill from March 14-16. Registration includes in-depth training and policy briefings from an array of preservation and policy professionals. Ticketed events offer additional meetings with elected officials, their staff, and a national network of preservation advocates. Advocacy Week is our annual opportunity to have a mass impact on policy makers in support of preservation-positive legislation. With the Historic Tax Credit severely threatened by tax reform efforts, we need your voice! Register today!
Also be sure to reserve your room at the Liaison Hotel today and lock in a special group rate of $279/night by calling 1-888-513-7445 or reserving online and using group ID "NC0313".
Preservation Action and the National Conference of State Historic Preservation Offices (NCSHPO) organize our industry's Advocacy Week each year, bringing over 250 preservationists to Washington, DC to promote sound federal preservation policy and programs.
Help us spread the word!
Join Webinar Next Thursday on Preservation and the 115th Congress
Register today for "Addressing the Threat to the Federal Historic Tax Credit and Setting the Preservation Policy Agenda for the 115th Congress"-a FREE webinar, brought to you by Preservation Leadership Forum and the Government Relations team at the National Trust for Historic Preservation, streaming live on Thurs., Jan. 19, 2-3 p.m. ET.
Listen in as preservation partners and National Trust President and CEO, Stephanie Meeks, present the most pressing policy issues facing the preservation community in the months ahead. Washington's leading advocates will discuss the legislative outlook and the challenges the federal historic tax credit faces as the House Ways and Means Committee takes its first steps to move comprehensive tax reform legislation.
National News
Department of Interior: "Interior Department Announces Grants for Underrepresented Communities Through Historic Preservation Fund"
Novogradac & Company: "How Would Tax Reform Affect HTC Investor's GAAP Financials?"
Historic Hotels of America: "37 Legendary Historic Hotels Inducted Into Historic Hotels of America"
Stories From Around the States
Missouri: "Missouri Historic Preservation Tax Credit Again Under Attack"
Tennessee: "MTSU Receives More Historic Preservation Funding for Work on Trail of Tears"
New York: "Editorial: Congress Needs to Retain Tax Credits that are Helping Fuel City's Resurgence"