<!–/ .post-meta
Preservation Action,Legislative Update
Volume 18, Number 5, February 06, 2015 →
President Obama Releases FY 2016 Budget Request
President Obama released the FY 2016 budget request this week. The budget request calls for $3.99 trillion in spending for FY 2016, a 6.4% increase over 2015 enacted levels. This budget will face challenges in Congress, with Republicans controlling the House and Senate. Congress will now get to work on the 12 annual appropriations bills. The budget request calls for $13.2 billion for the Department of Interior, a nearly 8% increase over 2015 enacted levels. This includes $3 billion for the National Park Service. This is a $432.9 million increase over FY 2015 enacted levels. The $3 billion NPS budget request includes the following funding levels for the Historic Preservation Fund (HPF):
$46.925 million for State Historic Preservation Officers, same as FY 2015 enacted levels
$9.985 million for Tribal Historic Preservation Officers, $1 million over FY 2015 enacted levels
$30 million for new competitive grants in aid for the Civil Rights initiative; a initiative to identify and preserve sites significant in the civil rights movement.
$2.5 million in grants for Historically Black Colleges
$500,000 in competitive grants targeted for communities currently under represented on the National Register of Historic Places, same as 2015 enacted levels.
President Obama's budget request also includes $17.5 million for restoration of sites important to the Civil Rights Movement within the NPS, places like Selma to Montgomery National Historic Trail and the Harriet Tubman Underground Railroad National Historical Park.
The 2016 budget request also calls for $9.92 million for the Heritage Partnership Programs (HPP), a decrease of $10.36 million from 2015 enacted levels. The President also called for decreases to HPPs in his 2015 budget request, but appropriators restored funding in the final budget. The Heritage Partnership Program provides grants and technical assistance to National Heritage Areas (NHA).
Preservation Action applauds the new grants for Historically Black Colleges and the new funding for the Civil Rights Initiative, as well the $1 million increase for THPO funding. Preservation Action will continue to advocate for increased funding for the Heritage Partnership Program and for full and permanent funding for the HPF.
FY 2016 Interior Budget in Brief →
 House Committee on Government Oversight and Reform Create New Subcommittee on Interior
Chairman of the House Committee on Government Oversight and Reform, Rep. Jason Caffetz (R-UT), announced the creation of a new Subcommittee on Interior. Rep. Chaffetz said the subcommittee will look into the Antiquities Act and President Obama's use of the Antiquities Act. President Obama has used the Antiquities Act to expand or designate new National Monuments 12 times since taking office. The new Interior Subcommittee will be chaired by Rep. Cynthia Lummis (R-WY).
The Antiquities Act, established in 1906 allows the President to quickly act to preserve lands of public interest. Republicans have been critical of President Obama's use of the Antiquities Act. Last year republicans in the House passed the "Ensuring Public Involvement in the Creation of National Monuments Act", which would limit the President's ability to establish National Monuments. The bill did not make it through the Senate. Preservation Action and their preservation partners advocated against the legislation, as an ill-conceived bill that unnecessarily restricts the designations of National Monuments.
10 Frank Lloyd Wright Buildings Nominated to the Wo

rld Heritag

e List

Secretary of Interior Sally Jewell announced that the United States would nominate a group of 10 buildings, designed by renowned architect Frank Lloyd Wright, to UNSECO's World Heritage List. The World Heritage List recognizes the most significant cultural and natural sites on the planet. The group of building entitled "Key Works of Modern Architecture by Frank Lloyd Wright" is listed below:
Unity Temple in Oak Park, Illinois
Frederick C. Robie House in Chicago, Illinois
Taliesin in Spring Green, Wisconsin
Hollyhock House in Los Angeles, California
Fallingwater in Mill Run, Pennsylvania
Herbert and Katherine Jacobs House in Madison, Wisconsin Taliesin West in Scottsdale, Arizona
Solomon R. Guggenheim Museum in New York City
Price Tower in Bartlesville, Oklahoma
Marin County Civic Center in San Rafael, California
The nomination will now be considered for inscription to World Heritage List by the UNSECO World Heritage Committee in the summer of 2016. If chosen the Frank Loyd Wright buildings will join 22 other sites in the U.S already inscribed, and be the first in the U.S representing the field of modern architecture.
"Frank Lloyd Wright is widely considered to be the greatest American architect of the 20th century and his works are a highly valued and uniquely American contribution to the world's architectural heritage." Secretary Jewell said.
10 Frank Lloyd Wright Buildings Nominated for World Heritage List Photo Set →
Effort to Restore North Carolina's HTC Continues
The effort to restore historic tax credits in North Carolina continues. Earlier this week, North Carolina Gov. Pat. McCrory highlighted historic tax credits in his State of the State Address. Gov. McCrory has been vocal in his support of restoring the tax credits and is calling on state legislators to reintroduce the program. North Carolina's historic tax credit expired on Dec. 31 2014, after state legislators failed to renew the program last year.
Supporters of North Carolina's historic tax credit, led by the N.C Metropolitan Mayor Coalition, launched an online petition to urge state legislators to re-introduce the tax credit. Currently they are nearing 5,000 signatures. Sign the petition today!
Time is Running Out- Register for Advocacy Week 2015 Today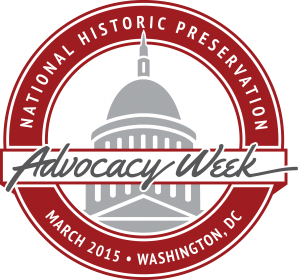 Registration is now open for Advocacy Week 2015! Be sure to register before Feb. 13th for the best rate.
National Historic Preservation Advocacy Week will be held March 2-4, 2015 at the Fairfax on Embassy Row in Washington, D.C. Our room block is available; call 888-627-8439 to make reservations and use group code 7266. Fairfax room rates $239 single, $259 double. Room rates expire on Monday February 9th. Call today!
Preliminary Program Now Available
Download the Preliminary Program (PDF)→
If your organization would like to hold briefings or meetings coinciding with Advocacy Week, please contact 202-624-5465.
Preservation Action and the National Conference of State Historic Preservation Offices (NCSHPO) organize our industry's Advocacy Week each year, bringing over 250 preservationists to Washington, DC to promote sound federal preservation policy and programs.
Help Us Spread the Word on Social Media!
Share and retweet today!
Catch early registration for #preservation Advocacy Week! Join preservationists March 2-4 in DC. We need your voice!! http://t.co/TAbH0OQDRp

— Preservation Action (@PreservationAct) February 5, 2015
Stories From Around the States
Wisconsin: "Walker Proposes $10 Million Cap on Historic Restoration Tax Credits"
New York: "New York State's 5- Year Historic Preservation Plan Approved"
New York: "Treasures of New York: The Landmarks Preservation Movement"
Ohio:  "Memorial Hall Repairs Get $1.5 Million from Taxpayers"