<!–/ .post-meta
Preservation Action, Legislative Update
Volume 18, Number 7, February 20, 2015 →
President Obama Designates 3 New National Monuments and Launches Every Kid in a Park Initiative
President Obama designated the Pullman Historic District in Chicago, Browns Canyon in Colorado and the Honouliuli Internment Camp in Hawaii as National Monuments this week. This culminates years of hard work from preservationists to have these unique and important sites permanently preserved.
As we posted last week, President Obama visited Chicago to designate the Pullman Historic District a National Monument; helping to preserve one of the most significant sites in labor and civil rights history. In addition, he also designated the Browns Canyon National Monument in Colorado, a place of extraordinary beauty and a wealth of significant geological, cultural and historical resources, and the Honouliuli National Monument in Hawaii, which houses the site of an internment camp that held Japanese Americans, resident immigrants and prisoners of war during World War II.
Together, these designations help to tell the rich and complicated story of America by preserving these cultural, historical and natural resources for future generations. With these new National Monument designations, President Obama will have used his authority under the 1906 Antiquities Act to establish or expand a total of 16 national monuments. Since 1906 a total of 16 presidents have used the Antiquities Act to preserve significant natural and historic resources.
Every Kid in a Park Initative
Coupled with the announcements of these new national monument designations, President Obama launched his new Every Kid in a Park initiative, aimed at getting children to visit and enjoy America's amazing collection of National Parks. As part of this initiative, starting in September, every fourth-grader in the Nation will receive an "Every Kid in a Park" pass, good for free admission to all federal lands and waters- for them and their families. This initiative will also provide tools to make it easier for schools and families to plan trips to federal lands and provide educational materials to make the trip a learning opportunity.
Preservation Action applauds President Obama's establishment of these 3 new national monuments, permanently preserving these amazing natural and historical treasures. Preservation Action is also excited by the Every Kid in a Park Initiative, as a great way to get a younger generation to enjoy and appreciate America's many natural, cultural and historic assets.
Please take a moment to thank President Obama for designating the Pullman National Monument. Also consider making a donation today to support all the work we do to keep historic preservation an important part of the national agenda.
Rep. Earl Blumenauer Will be the New Historic Preservation Caucus Co-chair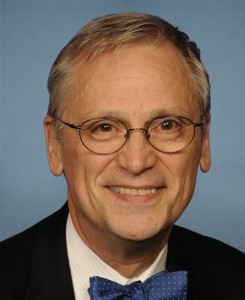 Representative Earl Blumenauer (D-OR) will join Rep. Micheal Turner (R-OH) as the co-chair of the Historic Preservation Caucus (HPC) in the House of Representatives. He will take over for former co-chair, Rep. Rush Holt (D-NJ) who decided not to run for reelection last year.
Preservation Action is very excited by the new leadership of the HPC. Rep. Blumenauer has been a consistent advocate for historic preservation, and we are excited by what his leadership can bring to the Caucus. Rep. Blumenauer has represented Oregon's 3rd district since 1996. He currently serves on the House Budget Committee and the Ways and Means Committee. He has long been a member of the Historic Preservation Caucus and a partner to preservationists. Rep. Blumenauer introduced the Creating American Prosperity Through Preservation (CAPP) Act alongside Rep. Aaron Schock (R-IL) in the 112th and 113th Congress. The CAPP Act would have increased the federal historic tax credit from 20% to 30% for projects with 7.5 million or less in qualified rehabilitation expenditures- dramatically improving and strengthening the federal historic rehabilitation tax credit.
Encourage Your Representative to Join the Historic Preservation Caucus
The Historic Preservation Caucus, formed in 2003, brings together members of Congress who understand the value of America's historic places as definers of our national character. Its members support and encourage preservation and thoughtful economic development in their states, districts, and territories as a matter of national policy.  Currently there are 92 members of the Historic Preservation Caucus. Encourage your representative to join today!
Members of the Historic Preservation Caucus →
Bill Introduced in Georgia to Expand HTC
Legislation was introduced in Georgia to dramatically increase the per project cap on developments receiving historic tax credits (HTC). If H.B 308 passes, the per project cap on HTCs would go from $300,000 to $5 million and up to $25 million if the project meets certain employment targets. The bill would also cap Georgia's HTC program at $60 million annually.  This increase to the cap would dramatically expand Georgia's HTC program. The legislation still needs to be approved by the Georgia House and Senate and then signed by the Governor.
Still Time to Register for Advocacy Week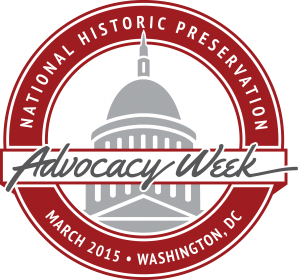 Still time to register for Advocacy Week 2015! Online Registration will close March 1st. After March 1st, you will still be able to register in person at the Fairfax Hotel.
National Historic Preservation Advocacy Week will be held March 2-4, 2015 at the Fairfax on Embassy Row in Washington, D.C. 
Issue One-pagers Now Available
Issue One-pagers are now available for download in both DOC and PDF format. You will also find invites to the Congressional Reception on Tuesday March 3rd, to leave with your members of congress.
Preliminary Program Now Available
Download the Preliminary Program (PDF)→
If your organization would like to hold briefings or meetings coinciding with Advocacy Week, please contact 202-624-5465.
Preservation Action and the National Conference of State Historic Preservation Offices (NCSHPO) organize our industry's Advocacy Week each year, bringing over 250 preservationists to Washington, DC to promote sound federal preservation policy and programs.
Help Us Spread the Word on Social Media!
Share and retweet today!
Register today for #preservation Advocacy Week!! Join 250 preservationists March 2-4th in DC. We need your voice!! http://t.co/8VPfDcEw74

— Preservation Action (@PreservationAct) January 30, 2015
Upcoming Events
The Power of Preservation in Indian Country
The National Association of Tribal Historic Preservation Offices (NATHPO) announces a unique leadership development opportunity for tribal preservationists – The Power of Preservation in Indian Country –a small group seminar to be offered May 30 through June 4, 2015, at the National Conservation and Training Center in Shepherdstown, West Virginia.
Save the Date–17th National Tribal Preservation Conference
NATHPO's annual conference will be the week of August 17, 2015, at the Route 66 Casino Hotel located about 20 miles from Albuquerque, New Mexico. Route 66 Casino Hotel is associated with the Pueblo of Laguna. Visit NATHPO's website for more information.
Stories From Around the States
Tennessee: "Nashville Suspends New Development Applications on Music Row"
Virginia: "America's Failure to Preserve Historic Slave Markets"
Connecticut: "Future is Brighter for Historic Mills"
<!–/ .post
<!– Start Commentform <!– #respond