<!–/ .post-meta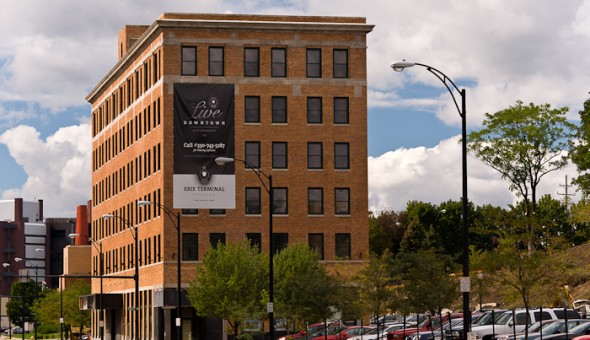 The Ohio Historic Preservation Tax Credit Program provides a tax credit equal to 25 percent of Qualified Rehabilitation Expenditures incurred as part of historic rehabilitation projects at National Register sites and districts. The Program is highly competitive and receives applications bi-annually in March and September. Applications are evaluated with an objective scoring system measuring each project's economic impact, community benefit and return on investment to state and local governments.
Recent Legislation affecting Ohio Historic Tax Credits
Ohio HTC Projects in '12: 63
Millions in Investment: $780
Permanent Jobs: 7, 120
Two pieces of legislation approved by the Ohio General Assembly during 2012 impact the Ohio Historic Preservation Tax Credit Program. Known as the DSA Bill, Senate Bill 314 became effective on September 28, 2012 and allows long-term lessees to participate in the program as an applicant. Prior to this change, only the fee simple owner of the historic building could apply.
Signed by Governor Kasich on December 20, 2012, House Bill 510 created the financial institutions tax (FIT) to replace corporate franchise and dealer in intangibles taxes. The legislation includes a provision to allow the Ohio Historic Preservation Tax Credit to be taken against liability for the FIT. Currently, the credit can be taken against the corporate franchise and dealer in intangibles taxes, which will be phased out at the end of 2013.
Erie Terminal Place, Youngstown, OH
Looking at the Erie Terminal Building, it appears to be just a normal office building. If you look a little closer, however, you may notice clues that suggest its unique past as a passenger train depot. The six-story building opened in 1922 to provide both a passenger station and office space for the Erie Railroad. The rear of the building was set along railroad tracks, allowing passengers to catch trains to New York, Chicago and major Midwest destinations until service was discontinued in 1976.
The Project
Reborn as Erie Terminal Place after a $12 million rehabilitation, the upper five floors of the property have been converted into 40 apartment units for up to 65 young professionals working in the Mahoning Valley and students at the adjacent Youngstown State University. The property's lower floors offer several commercial storefronts to serve as amenities for the residents and to Downtown Youngstown, creating 40 jobs inside the building. Trains may no longer stop, but the Erie Terminal Building is bustling again.
Promotional Video of the New Apartments by NYO Property Group
For some young professionals, leaving their hometowns after college is all they can imagine. Revitalized downtowns and diverse living opportunities, however, can make the decision to come back home both easier and attractive.
Erie Terminal residents Danny Buccino, 25, and Dave Murdoch, 31, embody the types of young talent Ohio communities want to retain. Both grew up in the suburbs of Youngstown, but did not see themselves living in the city after college. Buccino attended the University of Toledo and most recently lived in Connecticut. Murdoch attended Youngstown State and planned to leave the area after graduation.
Today, Buccino is a component engineer with Delphi Automotive in Warren. Murdoch is running his family business, an industrial garage door supplier that is seeing unprecedented growth because of the oil and gas industry. Both are thrilled to be part of the rebirth of Downtown Youngstown and were attracted to Erie Terminal Place because of its proximity to restaurants, nightlife and civic amenities within walking distance, something they note as one of the reasons their friends are attracted to other cities.
Buccino and Murdoch believe Erie Terminal has helped change attitudes about the potential for Downtown Youngstown. "This project has uplifted the area from a place no one wanted to be, to a showplace for the region. I've never looked at Youngstown with a brighter light," Murdoch said.
<!–/ .post
<!– Start Commentform <!– #respond