<!–/ .post-meta
Preservation Action, Legislative Update
Volume 19, Number 42, December 02, 2016 →
What Do the Election Results Mean for Historic Preservation
What a November. Preservation Action is getting back in the swing of things after an extended break following the elections, the National Preservation Conference in Houston, and the Thanksgiving break. At this point we have a better idea how the next administration will be filling out, and the makeup of the 115th congress. On Nov. 8th Donald Trump was elected President of the United States, likely winning 306-232 in the Electoral College vote count. Hillary Clinton is expected to win the popular vote count by about 2 million votes. President-elect Trump has begun to fill out his administration, including several important cabinet posts. Preservation Action will be paying close attention to President-elect Trump's pick for Secretary of Interior, which has to be determined, but could be announced by next week.
In congress Democrats made small gains in both the House and Senate, but Republicans will remain in the majority, once again controlling important committee posts. Republicans majority in the House will likely be 241-194. Three races remain uncalled, 2 in Louisiana that are headed toward a runoff and strongly favor the Republican candidate and 1 in California where the incumbent Republican retains a slim lead. Democrats will pick up 2 seats in the Senate, but Republicans will remain in control 52-48. Preservation Action will closely watch the committees of particular interest to our issues, House Natural Resources, House Ways and Means, Senate Energy and Natural Resources, Senate Finance, and House and Senate Appropriations Committees.
Lame-duck Session of Congress
Congress is now back in session for likely a short lame-duck session before recessing for the holidays. The main item on the agenda is funding the government past Dec. 9th, when the current continuing resolution expires. Given the results of the election, congress will likely move to pass another CR lasting until March or April of next year, with many Republicans preferring to negotiate spending levels with a new Trump administration. Previously passed FY17 Interior appropriations bills included important increases for the Historic Preservation Fund, and we will continue our work to ensure those increases are part of any appropriations bills.
The HPF also remains unauthorized. Renewal of the HPF while Congress is in session remains a top priority for Preservation Action. We are working with our partners on the Hill to include HPF authorization as part of an energy reform bill, National Park Service Centennial legislation, or any legislation that could gain traction in the lame-duck session. As of now the most likely vehicle is the energy reform bill. Permanent HPF reauthorization was included in the Senate version (S. 2012) but not in the House version. Differences between the two bills are being worked out in conference.
Looking Ahead to a New Congress and Trump Administration
While we look ahead to working with a new Trump Administration we see both challenges and opportunities. While the election results came as a surprise to many of us we are committed to ensuring a strong federal historic preservation program. We will continue our efforts to fully fund and permanently reauthorize the Historic Preservation Fund, expand and protect the Historic Tax Credit, preserve important historic preservation protections like Section 106, and numerous other issues.
One area of concern is with the Historic Tax Credit. Tax Reform appears to be a top priority for the new Congress and new administration. In June House Republicans released A Better Way: A Blueprint for Tax Reform, while the HTC is not cited specifically, the blueprint proposes the elimination of several tax preferences and credits, which would include the HTC. One way for us to show lawmakers that HTC is an important and valuable tool, is a strong showing of bipartisan support for the Historic Tax Credit Improvement Act. Encourage your Representative to cosponsor H.R 3846 and your Senators to cosponsor S. 2655 before the end of the current Congress!
We also see multiple areas where we can work President-elect Trump. On the campaign trail and again as President-elect, he promised rebuild our infrastructure and we think historic preservation can very much be a large part of that discussion. For more information on the new Trump Administration's impact on historic preservation and cultural heritage, check out the webinar from our partners at the American Cultural Resources Association.
Preservation Action stands ready to work with the new administration and new congress to further protect and expand our federal preservation program, but we need your help. We need your continued commitment and advocacy on issues like the Historic Tax Credit, which could face elimination as part of tax reform efforts. We also need your financial support so we are better prepared to take on these challenges and capitalize on opportunities. Please consider joining/renewing your Preservation Action membership and donating to our annual end of the year appeal!
Donate to Preservation Action's Annual Appeal →
Action in Houston: Thank You for a Great Event During the National Preservation Conference in Houston TX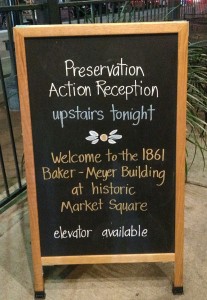 Preservation Action just concluded a fantastic event, coinciding with the National Preservation Conference, celebrating the surge of historic rehabilitation projects in downtown Houston. Thank you to all of our attendees, sponsors, supporters, speakers, and everyone who helped make it a memorable night. 
Preservation Action's "Celebration of Houston" was at the historic Treebeard's restaurant in the Market Square neighborhood of Houston and featured presentations from Anna Mod and Minnette Boesel. Anna Mod, a historic preservation specialist at SWCA Environmental Consultants in Houston, gave a presentation on the full range of historic tax credit rehabilitation projects she's currently involved with including the Texaco building and the Houston Fire Museum. Following her presentation, Minnette Boesel, whose real estate firm led in specialization in downtown residential properties, provided context for the Market Square redevelopment and the role of the Treebeard's restaurant in that story.
The insightful presentations combined with the building's historic charm and excellent southern style Cajun cuisine provided by Treebeard's, made for an excellent event. Specifically we would like to thank all of sponsors, Hugh and Shanon Miller, Tom Morairity, Richard Nettler, Bruce and Jill MacDougal, Carol and Joe Shull, and PNC, our presenters for the evening, Anna Mod and Minnette Boesel, Treebeard's Restaurant for hosting us, our partners at the National Trust for Historic Preservation for their help in promoting the event, and lastly all of our PA members, both new and old, for attending and their continued support.
Save the Date: National Historic Preservation Advocacy Week Will be Held March 14th-16th in Washington DC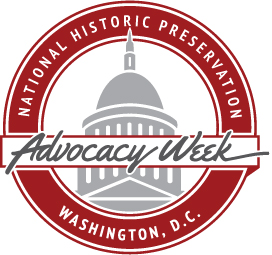 Preservation Action and the National Conference of State Historic Preservation Officers (NCSHPO) are pleased to announce that the National Historic Preservation Advocacy Week will take place March 14th-16th at the Liaison Hotel on Capitol Hill.
One of the most effective ways of sharing information with Congress is through direct meetings, and Advocacy Week is our annual opportunity to have a mass impact on opinion leaders and policy makers. After the November elections we face a new administration and new congress. These changes could present new threats and potentially new opportunities for historic preservation, but we need your voice! Together with a cohesive message in support of preservation-positive legislation we can ensure a strong future for the federal historic preservation program.
Preliminary Schedule
Some events are ticketed, some are by invitation only
Tuesday, March 14, 2017
Preservation Action Annual Meeting
SHPO and FPO Forum Invitation
Advocacy Lunch with Keynote Speaker (TBD) Ticketed
Policy & Issues Updates and Trainings
NCSHPO Reception & Banquet Ticketed
.
Wednesday, March 15, 2017
Hill Visits
Hill Reception Ticketed
.
Thursday, March 16, 2017
NCSHPO Annual Meeting
.
Full Event Registration Will Be Available Early January 2017
Make Your Hotel Reservations TODAY!!
$279/Night Special Rate*
The Liaison Capitol Hill 
A Joie de Vivre Hotel
415 New Jersey Avenue NW
Washington, DC
888.513.7445
.