Preservation Action, Legislative Update
Volume 22, Number 04, February 01, 2019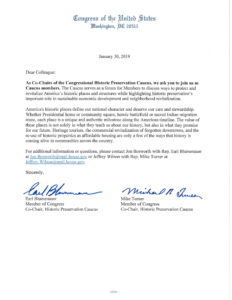 1. Historic Preservation Caucus Sends Dear Colleague Letter. Urge Your Representative to Join!
2. New Leadership and Committee Members Selected for House Natural Resources Committee
3. Legislation to Establish a Historic Tax Credit Introduced in Michigan
4. Registration Now Open for National Historic Preservation Advocacy Week!
5. Stories From the States
Legislative Update: February 01, 2019 →