Preservation Action, Legislative Update
Volume 21, Number 05, February 16, 2018 →
President Trump's Budget Request Calls for Substantial Cuts to the Historic Preservation Fund and Other Preservation Programs
The Trump Administration released their FY19 budget request this week. The request calls for substantial cuts to programs important to preservation, including a more than 50% cut the Historic Preservation Fund (HPF). The request eliminates funding for HPF grant programs like the Civil Rights Grants, HBCU preservation program, and Save America's Treasures. The request also dramatically reduces funding State and Tribal Historic Preservation Programs.
President Trump's FY18 HPF Budget Request
SHPOs: $26.9 million ($20.6 million below FY17 levels)
THPOs: $5.7 million ($4.6 million below FY17 levels)
Civil Rights Grants: funding not requested ($13 million below FY17 levels)
HBCU Preservation Program: funding not requested ($4 million below FY17 levels)
Save America's Treasures: funding not requested ($5 million below FY17 levels)
Underrepresented Community Grants: funding not requested ($500,000 below FY17 levels)
The massive cuts to the HPF would be devastating for historic preservation across the country and greatly undermine the ability of SHPOs and THPOs to carry out their requirements under the National Historic Preservation Act.
The FY19 budget request also proposes the elimination of the Heritage Partnership Program, which funds National Heritage Areas (NHA). The program is currently funded at $19.8 million. The budget also eliminates the National Endowment or the Arts (NEA) and National Endowment for the Humanities (NEH).
The massive cuts to the HPF, and the elimination of funding for NHAs, NEA, and NEH are very troubling, but Congress still controls the purse strings. Currently the HPF is funded under a CR running until March 23rd and preservation advocates have some reason to be optimistic. Last year's FY18 Appropriations bills continued funding levels for the HPF and the recent budget deal included increases to top line budget numbers for non-defense programs.
Join us in Washington, DC! Preservation Action along with advocates from across the country will present our funding requests for the Historic Preservation Fund (HPF) to Congress during National Historic Preservation Advocacy Week, March 12-14. We need your voice, Register Today!
Senators Cassidy, Schatz and Reed Introduce Legislation to Promote Cultural Tourism
Senators Bill Cassidy (R-LA), Brian Schatz (D-HI) and Jack Reed (D-RI) recently introduced the Explore America Act (S. 2395). This bill would support expanded cultural heritage opportunities by strengthening the Preserve America Grant Program. The legislation would make changes to the Preserve America program which supporters say will help to attract more visitors to cultural heritage sites and provide increased collaboration between local communities and the federal government.
"Cultural heritage tourism provides an authentic view into our nation's past and allows the public to learn about and enjoy the various cultural histories of gateway communities across our nation," said Senator Reed. "This effort will also stimulate local economies and create jobs in the tourism industry.".
The Explore America Act would amend the Preserve America Grant Program to provide technical assistance in lieu of monetary funds, focus on economic growth, increase accountability, and prioritize community coordination.
There are more than 900 Preserve America communities across the country and while the program is authorized, it is not currently receiving funding. Learn more about this legislation.
Preservationists Must Act Now to Secure Big Benefits for Historic Neighborhoods
A little-noticed provision tucked into the monumental tax reform act that Congress passed at the end of 2017 has the potential to deliver big benefits for historic preservation-but only if advocates act fast. The new law creates so-called Qualified Opportunity Zones (QOZs), which offer significant tax breaks to investors seeking to defer or abate their capital gains taxes on projects like investing in historic buildings. But the clock is ticking on a March 21 deadline for Governors to nominate neighborhoods in their states or territories for QOZ status.
Read more in this blog post by Preservation Action Board member, Andrew Potts about how the program works and how preservationists can advocate for historic areas in this new process.
Register Today for National Historic Preservation Advocacy Week!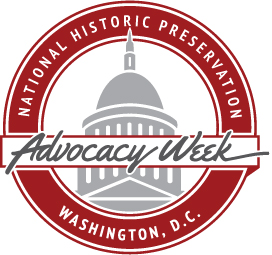 Registration is now open for National Historic Preservation Advocacy Week 2018. Online registration ends March 9th!
Preservation Action along with the National Conference of Historic Preservation Officers (NCSHPO) is excited to host the 2018 National Historic Preservation Advocacy Week from March 12th-14th at the historic Hamilton Hotel in Washington, DC.
Advocacy Week registration includes in-depth training, policy briefings, meetings with elected officials and white papers from an array of preservation and policy professionals. Ticketed events offer additional meetings with elected officials, their staff, and a national network of preservation advocates.
We Need Your Voice
Advocacy Week is our annual opportunity to have a mass impact on opinion leaders and policy makers. Together with a cohesive message in support of preservation-positive legislation we can ensure a strong future for the federal historic preservation program.
Make Your Hotel Reservations Today
Take advantage of a special $279/night rate. To make your reservations call 866-407-1764 and use event code "NCSHPO Advocacy". Special room rate expires Feb. 16th 2018.
Check out our Advocacy Week page for more information!
National News
ACHP: "ACHP Announces Report to the President on Federal Historic Property Stewardship"
Stories From Around the States
Virginia: "Report: Historic Building Revitalization Generates Billions in Economic Return"
New York: "Federal Historic Tax Credits Survive Reform; New York's Program in Limbo"
Oregon: "Portland Historic Preservation Rules Get a Revamp"
Louisiana: "A Look at a Tax Credit that Saves Historic Buildings and Revitalizes Them"
Wisconsin: "Madison Preservationists Worried Bill Would Hurt Madison's Historic Landmark Designation Power"