<!–/ .post-meta
Preservation Action, Legislative Update
Volume 17, Number 30, August 22, 2014 →
Julian Castro Sworn in as New HUD Secretary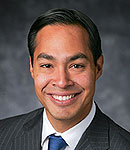 Former San Antonio Mayor Julian Castro was sworn in as new Housing and Urban Development (HUD) Secretary.  He was sworn in by Vice President Joe Biden at the Eisenhower Executive Office Building next to the White House. The Senate confirmed Castro in a 71-26 vote last month. Secretary Castro will replace Shaun Donovan, who stepped down from HUD after being nominated to lead the White House Office of Management and Budget (OMB).
HUD programs can be used to support and facilitate the use of historic properties for affordable housing, economic development, and community revitalization. Thus, preservationists are very interested in Secretary Castro's leadership on historic preservation and community development.
Castro has been a long time supporter of historic preservation both as a city councilman and mayor of San Antonio. San Antonio has a long history of preservation, with 27 designated historic districts and a municipal office dedicated to historic preservation. One of Castro's major achievements as mayor was the redevelopment of Hemisfair Park, which was originally built to host the 1968 World's Fair and contains waterfalls and several historic buildings.
As Mayor, Castro worked with the San Antonio city council on a new plan to combat vacant buildings and encourage development. The new plan, expected to be implemented beginning January 1st 2015, would require property owners of vacant buildings to register their properties with the city and adhere to stricter up-keep standards.
NPS Celebrates 30 Years of National Heritage Areas
The National Park Service is celebrating the 30th anniversary of the passage of the Illinois & Michigan Canal National Heritage Corridor Act, establishing the first National Heritage Area on August 24th 1984. Today there are 49 National Heritage Areas across the country.
Before the congressional recess, the Senate Energy and Natural Resources National Park Subcommittee heard testimony on the establishment and reauthorization of several National Heritage Areas. It important to let your members of congress know the importance of these NHA's. During this in-district period urge your member to visit NHA's or other historic preservation projects. See the full list of projects discussed and watch the senate hearing below.
Senate National Parks Subcommittee Hearing  →
NPS Considers Pullman Historic Site for National Park
The National Park Service held a hearing at the Pullman historic site to explain to residents the process of the site becoming a National Park and give residents and local leaders a chance to express their opinions. NPS director John Jarvis joined Rep. Robin Kelly (D-IL) at the Pullman historic site in Chicago Il. The site is currently overseen by the Illinois Historic State Preservation Agency
The Pullman historic site, located in the Pullman neighborhood on the south side of Chicago, is the remains of the one-time Pullman Palace Railcar Co. and surrounding company town. This was the site of the first nationwide labor strike in 1894, which led to a confrontation between strikers and U.S Army troops, leaving 30 people dead. This strike led to the establishment of Labor Day as a national holiday.
The Illinois Historic State Preservation Agency invites comments on the Pullman site from area leaders and residents who were not able to attend the hearing. Email hpa.pullmanpm@illinois.gov
Preservation Action Foundation's Advocacy Scholars Program
The Preservation Action Foundation is very excited to announce the second year of our Advocacy Scholars Program. The first year of the program was a huge success in training the next generation of preservation advocates. We are delighted to have sponsors who support our mission by investing in the next generation.
The Advocacy Scholars bring a new perspective to historic preservation policy issues and help build the next generation of advocates for the cause.
Brenda Barrett, Advocacy Scholars Sponsor
Students selected as Advocacy Scholars are an important new part of the collective grassroots voice. If you are interested in the program, please visit the link below for more information and look for the Call for Papers announcement, coming in September.
PAF Advocacy Scholars Program  →
Meet With Your Member of Congress
During the Congressional in-district work periods, it is critical that you keep up the momentum. Educate your member of Congress on historic preservation projects in your local community.
We're counting on grassroots activists to help preserve funding for Historic Tax Credits and the Historic Preservation Fund
Introduce yourself to your US Senate and US House of Representative members' District office staff.
Identify a tax project in your community for Congressional visits.
Invite the Members and their staff to tour a tax project.
Request a meeting with your Member of Congress in their district.
Invite the member of Congress to speak at a local event on historic preservation.
Preservation Action Election Watch
Elections of Congressional representation in the US House of Representatives and US Senate are important acts of civic participation. This election, historic preservationists have an opportunity to engage candidates on the historic preservation issues important to you and your communities. Congressional leaders supportive of historic preservation are retiring from offices in the House of Representatives and the Senate.
Who's Leaving Congress
Upcoming Primaries
Alaska: August 19
Arizona: August 26
Connecticut: August 12
Delaware: September 9
Florida: August 26
Guam: August 30
Massachusetts: September 9
New Hampshire: September 9
Rhode Island: September 9
Vermont: August 26
Wyoming: August 19
National News
CNN– "Historic Hong Kong Neighborhood Fights to Preserve it's Past"
Stories From the States
Vermont– "Six Vermont Communities to Benefit From Certified Local Government Grants"
Wisconsin– "Tax Credits Bring Theater Closer to Goal"
New York– "Public Should Have Input on Historic Preservation"
<!–/ .post
<!– Start Commentform <!– #respond