<!–/ .post-meta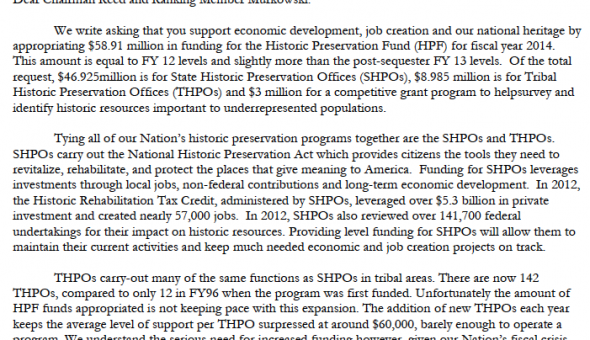 Preservation Action, Legislative Update
Volume 16, Number 16, April 19, 2013 →
Preservation Community Testifies Before Appropriations Subcommittee
This week Preservation Action attended the House Interior, Environment, and Related Agencies Appropriations Subcommittee public testimony hearings. While we will submit written testimony to the Subcommittee, the preservation community was represented at the hearings by NCHSPO and the National Trust. Testifying for NCSHPO was their Deputy Director, Elizabeth Hughes. "Historic Preservation recognizes that what was common and ordinary in the past is often rare and precious today, and what is common and ordinary today may be extraordinary – fifty, one hundred years from now," said Hughes.
Also pointed out to the subcommittee were some preservation successes from the past year. Among these were $3.15 billion in private investment through the Federal Rehabilitation Tax Credit (HTC) and 6,366 low and moderate income housing units through the HTC. This year's request to the committee is $50 million for SHPOs and $10 million for SHPOs, in addition to the $3 million proposed in the President's budget for underrepresented communities. Preservation Action continues to monitor the appropriations process in both houses of Congress and will alert our members to any news on our issues.
Senate Funding Request Letter Released, Signatures Needed!
Preservation Action needs YOUR help to get Senators to sign on to this year's Dear Colleague letter. We had great success with our House letter, having gotten 92 signatures in a very short amount of time! We're hoping to duplicate that success in the Senate. This year's letter is again being lead by Sen. Kirsten Gillibrand (D-NY) and Sen. Ben Cardin (D-MD). We have a very limited amount of time get signatures—our deadline is Thursday April 25th! We need your help and we need it fast! You can view the letter by clicking here. The Senate letter this year requests $46.925 million for SHPOs, $8.985 million for THPOs, and the additional $3 million for competitive grants to survey and identify historic resources important to underrepresented communities. Anyone wishing to sign on to the letter can contact Jodi Schwartz at Jodi_Schwartz@cardin.senate.gov or Jon Cardinal at jon_cardinal@gillibrand.senate.gov. As always if you have any questions, do not hesitate to contact Preservation Action staff!
Nominations for Historic Rehabilitation Awards Needed
Novogradac & Company LLP, a certified public accounting firm that deals extensively with the Historic Tax Credit, announced this week that they are accepting nominations for their 2013 Historic Rehabilitation Awards. The awards will be given out on September 19th and the deadline for submitting a nomination is June 19th, 2013. For more information, including how to submit a nomination , visit http://www.novoco.com/historic/awards/index.php.
<!–/ .post
<!– Start Commentform <!– #respond