<!–/ .post-meta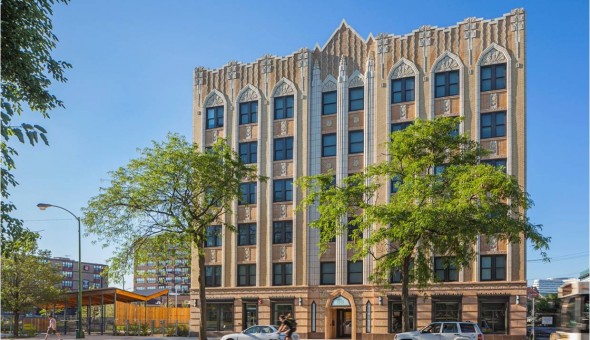 During National Historic Preservation Advocacy Week, six projects were awarded "Preservation's Best." Congressional Historic Preservation Caucus Co-Chairs Michael Turner and Rush Holt, along with US Senators and Members of Congress representing the project winners attended to recognize and present the award to their constituents.
Through federal incentives like the historic tax credit, historic preservation drives economic development and community revitalization across the nation by taking historically significant buildings, that are dated and abandoned, and turning them into viable community assets in a 21st Century economy. "Preservation's Best of 2013" highlight exemplary historic tax credit projects that revitalize our cities and small towns, and breathe new life into our communities.
Sponsored and Presented by:
Harvest Commons, Chicago, IL
Development partners Heartland Housing and First Baptist Congregational Church transformed the former Viceroy Hotel, originally built in 1929, into an affordable apartment community containing 89 studio units serving near homeless individuals as well as women recently released from prison seeking to rebuild their live, now known as Harvest Commons.
In 1930 the Union Park Hotel opened as an "apartment hotel" for workers new to Chicago in need of temporary housing. From 1963 to the mid 2000s, under new ownership and with a new name, the Viceroy Hotel steadily fell into serious decline. The building became an epicenter for crime and unsanitary living conditions in the neighborhood. Closed and taken over by the City in 2004 the hotel sat vacant on Warren Boulevard, stripped by looters, and heavily vandalized. In 2009 Heartland Housing and First Baptist Congregational Church won the Request for Proposal and began the hard work of transforming the building into Harvest Commons.
Detailed Project Presentation hosted by Chicago Architecture Foundation
As a landmarked Art Deco building maintaining as much historical integrity as possible was a high priority during the rehab process at Harvest Commons. Heartland Housing's commitment to sustainability also informed many modifications to the existing structure and upon completion was certified as an Enterprise Green Community building. To encourage tenant participation in the the sustainability process and provide access to healthy food options, an on-site sustainable agriculture program was implemented.
Funding sources for the $22.3 million project included equity generated by federal historic and low-income housing tax credits, the Illinois Affordable Housing Tax Credit, tax-increment financing from the city, and a state grant. The federal tax credits were syndicated by Enterprise Community Investment, Inc. and the state tax credits taken by U.S. Bancorp CDC.
<!–/ .post
<!– Start Commentform <!– #respond