<!–/ .post-meta
Preservation Action, Legislative Update
Volume 20, Number 11, April 14, 2017 →
Senators Introduce Legislation to Permanently Authorize the Land and Water Conservation Fund
A bipartisan group of Senators, led by Sen. Richard Burr (R-NC) and Sen. Michael Bennet (D-CO), introduced S. 896. This bill would permanently extend the authorization of the Land and Water Conservation Fund (LWCF). So far S. 896 has 6 cosponsors and as been referred to the Senate Energy and Natural Resources Committee. The LWCF supports park improvements and land acquisition and is funded though offshore oil and gas leasing revenue. Despite broad support, the program was reauthorized in 2015 for only 3 years. While the program is popular, some members of Congress want to use this time to reform the LWCF before reauthorizing the program.
Over the last few years several attempts have been made to reauthorize the LWCF. Last year President Obama called for full and permanent funding for the LWCF as part of his FY17 budget request. Most recently a bipartisan group of Senators, led by Sen. Lisa Murkowski (R-AK) and Sen. Maria Cantwell (D-WA), pushed for the Energy Policy Modernization Act of 2016 (S. 2012) which included permanent funding for the LWCF and the Historic Preservation Fund. While the bill passed the Senate and similar, less far-reaching legislation passed the House, negotiators were unable to reconcile the two bills in conference before the end of the last congress.
"The LWCF has a proven track record of making good on the promise of conserving our parks, open spaces and wildlife habitats for the benefit of future generations of Americans," Sen. Burr said in reauthorizing the LWCF.
The LWCF plays an important role in the protection of America's battlefields, historic and cultural sites. Preservation Action will continue to follow this legislation and supports permanent reauthorization of the LWCF. Check out the LWCF Coalition to learn more.
Celebrate National Park Week. Admission to National Parks Will be Free April 15-23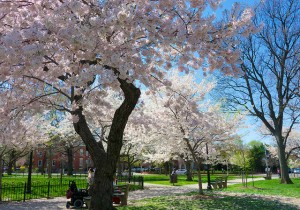 Celebrate National Park Week, get out and enjoy our nation's "best idea". Starting tomorrow, in celebration of National Park Week, all units of the National Park Service (NPS) will be admission free. Admission to all National Parks, historic sites, and other locations managed by the NPS will be free from April 15-23rd. National Park Week is where we celebrate the over 400 natural, historic, and culturally significant sites that make up the National Park System.
Events and activities are planned across the country, all week long. If you haven't already, check out NPS's Find Your Park campaign, which urges everyone to celebrate and find your own unique connection to the national parks. Start planning your National Park Week. Follow the link to find events in your area and find out how you can celebrate!
Supporters Increase Effort to Protect Missouri's HTC Program from Elimination
Supporters of Missouri's historic tax credit program are ramping up their efforts to continue the state's successful program. Missouri's Governor, Eric Greitens, and the state legislature have targeted tax credits in their efforts to reduce the state budget. Earlier this year, the Governor ordered a review of all tax credit programs. Missouri currently offers a 25% tax credit on all qualified rehabilitation expenses. The program is capped at $140 million annually. A bill, S.B 285, aimed at reducing tax credit programs was introduced in February, and would cap the HTC at $50 million annually.
Missouri's HTC has also served as a model for several states own historic tax credit program. Supporters of the program argue that Missouri's HTC program is a revenue generator for the state, bringing in more revenue annually, than the cost of the program. In February supporters from across the state gathered at the Missouri state capitol to advocate for the continuation of the historic tax credit program. Organizations like Missouri Preservation and the Historic Alliance for Missouri are leading the efforts to protect the state's HTC program from elimination. Check out latest to find out how you can help!
Thanks for Another Great Advocacy Week
Thanks to everyone who battled the weather and came out for National Historic Preservation Advocacy Week. Thanks to all of the participants, sponsors and supporters who helped make it all possible. We had over 200 meetings scheduled, representing 42 states!
Return Hill Meetings Report Forms
Knowing who you met with and how the meetings went is essential for Preservation Action and National Conference of State Historic Preservation Officers staff for their continued advocacy. Reports can be completed online and takes less than 10 minutes (in case anyone had difficulty entering multiple reports, it should be working now).
Complete Your Hill Report Form Online Today! →
A copy of the form was also included in your briefing packet, and can be downloaded here. Completed forms can also be emailed to mail@preservationaction.org, or simply mailed to our office. Please return your hill report forms by April 15th.
Follow Up
As preservationists return to the their home states, Preservation Action is counting on grassroots activists to keep up at the advocacy!
–Follow up with your members of Congress and their staff you met during your hill visits. Perhaps send a personal thank you note.
–Urge your members of Congress to co-sponsor the Historic Tax Credit Improvement Act (S. 425, H.R 1158)
–Request a meeting with your member of Congress in their district. The next congressional in-district period is April 7-24th.
–Invite the members and their district staff to tour tax credit projects or historic sites.
–Invite the member of Congress to speak at a local event on historic preservation.
National News
American Institute of Architects: "Michelle Obama to Give Keynote Speech at AIA's Annual Architecture Conference"
Stories From Around the States
Illinois: "Lincoln Library Made Separate Agency, History Bureau Merged into DNR"
California: "Historic Preservation Can Revitalize Downtown San Diego"
Wisconsin: "Preservation Politics: Scaling Back Historic Tax Credit Will Likely Hurt Economic Development"