<!–/ .post-meta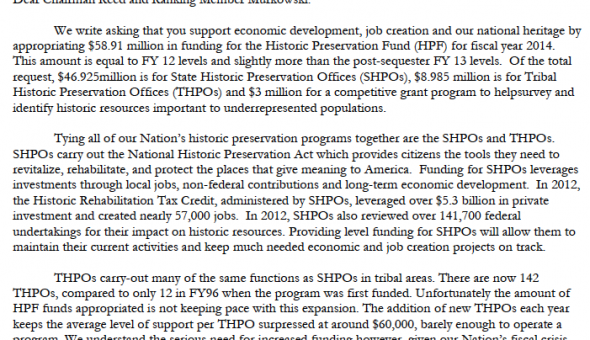 Contact your Senators and their Staff to ask them to sign-on today! Deadline: April 25, 2013.
Sens. Kirsten Gillibrand (D-NY) and Ben Cardin (D-MD), have drafted a letter to the Chairman and Ranking Member of the Interior, Environment, and Related Agencies Appropriations Subcommittee which requests $58.91 million in historic preservation program funding (via the Historic Preservation Fund) for FY14. It is our duty to ensure as many Senators as possible sign-on to the letter.
See below for an updated list of signers. Anyone wishing to sign on to the letter can contact Jodi Schwartz at Jodi_Schwartz@cardin.senate.gov or Jon Cardinal at jon_cardinal@gillibrand.senate.gov.
Maintaining and increasing funding from the Historic Preservation Program was one of our member's top priorities, see our resources on the subject here and consult our Action Center for recommendations for contacting your representatives.
So far, the following members have signed on:
Sen. Kirsten Gillibrand (D-NY)
Sen. Ben Cardin (D-MD)
Sen. Mazie Hirono (D-HI)
Sen. Bernie Sanders (I-VT)
Sen. Richard Blumenthal (D-CT)
Sen. Sheldon Whitehouse (D-RI)
Sen. Debbie Stabenow (D-MN)
Sen. Patrick Leahy (D-VT)
Sen. Elizabeth Warren (D-MA)
Sen. Ron Wyden (D-OR)